In Brief
March was a very busy month. District Conference, 6 planned presentations, and preparing for the upcoming May Mission promises to make April an even busier one.
During the month of March
Significant monetary donations were received. The following provided financial support:
Rotary Club of Lima
Rotary Club of Findlay Flag City
Rotary Club of Ottawa Glandorf
Rotary Club of Waterville
MESA
Equipment and supplies or volunteer labor was received from the following:
Rotary Club of Elyria(George Costaras, books, tapes)
Rotary Club of Lima (Mike Frueh, printing the RCI threefold brochure at no cost… at least to RCI)
Gail Odneal (toys and games)
Justin Kendall (setting up the computers donated by Bowling Green State University)
We are actively collecting for our 2012 – 2013 missions to Belize. We need computers, tables, TVS, VCRs, children's chairs, school supplies, books, VHS tapes, toys and games.
The following have volunteered to help out at the RCI booth at District Conference: The purpose of the booth is to actively promote the Resource Centers International mission to Rotary Club members of District 6600.
Allison Roebke
Natasha Romanova
Gail Odneal
May Mission to Belize
The Belize team is set for our May mission. They are:
Dr. Toni Baker: University of Belize, Assistant Professor, Department of Education
Loyden Bejerano: Primary School Principal
Verna Villafranco: Primary School Principal (retired)
Roy Hendy: Engineer (retired)
Feliciana Torres: University of Belize, Lecturer and Director of the Salvapan Resource Center
Araceli Garcia: Primary School Teacher
Magdalena Larios: Board Member, Community of Duck Run III
The members of the team from the United States are:
Dan McCormick (Computer engineer, third mission)
Mel Honig (Project Coordinator, fifth mission)
Your name could be here… we still need volunteers for May. Many have said they were interested, but yet to commit.
MESA bike ride is June 8Th – 13Th, 2012
You can help support MESA by either participating in the MESA bike ride or by pledging. Project coordinator, mel honig will once again bike one of the legs of the 6 leg tour. This year mel has chosen the leg from van wert to lima, a distance of 30 miles… a short run after last year's 62 mile ride in a day. If you choose to pledge, please indicate that you support rci On the pledge/registration form.
Rotary bicycle tour for MESA
Save the Dates-June 8 – 13, 2012
2012 rider registration and pledge form can be found at district 6600 website. Click on rotary tour for MESA or type in:Http://www.rotaryMESA.org/bicycletour.html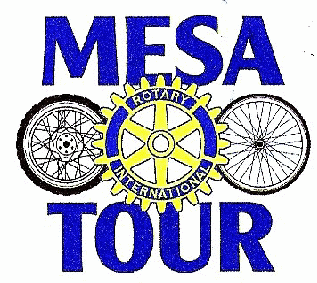 Plan to join the MESA tour. it is a blast!
Do you want to have a fun-filled week?
Registration today!
MESA is at district conference
Look for the MESA truck
Medical Equipment and Supplies Abroad
You CAN make a difference!
The ride of a lifetime!
There are still many ways you can participate in the RCI adventure before the end of the 2011 – 2012 fiscal year.
You can:
donate (either monetarily or equipment and supplies)
volunteer to help out at the RCI booth during District Conference (Apr 19-21)
participate in the May mission when we will be team teaching with the educators of Belize (May 19 – 26)
Join in the MESA bike ride.