In Brief
May I thank you for this great opportunity for the students having adequate place for to do their research. We have programmed different programs that will help the students to do research for the meantime we don't have internet but the plans to access internet is a strong commitment that we will be working forward. Greetings to your family and thanks for the interest that you placed in us to unite us as a community.
-Email from Anirdy Cruz, Resource Center Board Member – Progresso, Belize
The following donations were received during the month of January.
Toys, books, games and sporting equipment from the Northcoast interact club. Please read the article by Gina Eschke below
Books, computer for the Bowling Green Rotary.
Monetary donations from the, Bucyrus and Avon-Avon Lake Rotary Clubs. Additionally donation pledges have been made by theMilan, Bowling Green and Lima Rotary Clubs.
Theme song composed and sung by Laila Salins. Her website is www.lailasalins.com. Please go to our website, home page to hear our theme song homepage or click play at the bottom of this newsletter.
We are actively starting to collect for our next shipment. Andrew Timothy and Mel Honig bought tables, carts, televisions, supplies etc. at a recently held Toledo Public School auction. Donations of books, games, toys, sporting equipment, computers, tables, children's plastic chairs, televisions, VCRs, VHS tapes, bookcases are needed for the next shipment scheduled for Fall 2012.
Northcoast interact club toy drive for
Resource centers international
By Gina Eschke, Avon-Avon Lake Rotarian and Interact Advisor
The North Coast Interact club hosted a toy drive from Jan 9-Jan 18th for Resource Centers International. Mel Honig had made a presentation at the Avon-Avon Lake Rotary in the fall of 2011. Gina Eschke, Interact advisor, took the RCI video to the North Coast Interact club and presented it to her students. The Interact president, Brookside High School senior, Taylor Stephens knew it was something the students in Interact would love to support. The language barrier and poverty that often impedes the future of the Spanish speaking children in Belize needed to be addressed. The club decided this was a project they wanted to embrace.
Interact students created fliers and decorated collection boxes to encourage the students in the sheffield-sheffield lake school district to donate their gently used toys. On January 18th, the interact students held one final push for toys by having a trunk pick-up at each of the elementary schools. The toy drive was a huge success. The club was able to nearly fill the MESA truck with toys, books and sports equipment.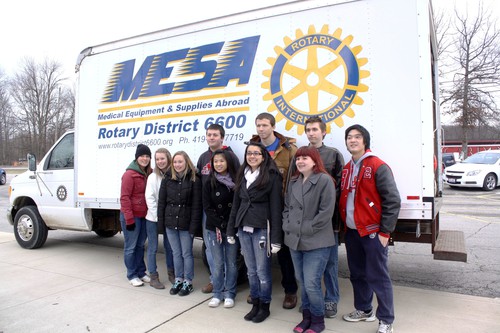 Some of the interactors who participated in the collection and loading of the MESA truck at Brookside High School, Sheffield-Sheffield Lake School District.
"We have so much and it can make a huge difference to the children in Belize", taylor said. Interact has 24 active members whose mission is to make a difference in their community and world. Brooke stafford, vice president and another senior at brookside, also sees that reaching out to others can make a big difference. "When you do something for someone else, whether it is righting a wrong or just caring, you know you make the world a better place!" the Avon-Avon Lake Rotary sponsors the North Coast Interact Ilub. They provided the funding for the MESA truck to come north to pick up the toys from this project. Working to make a difference in our community and the world is what sets rotary and interact apart from other high school organizations.
Come Join Our Next Mission!
Four sites have been chosen for the next RCI mission. Originally planned for March, the start of the mission has been changed to May so it would be more convenient for missioners to participate.
The sites chosen for the mission are:
Valley Community; located on the Hummingbird Highway, Stann Creek District.

The new Community Center Building in Valley Community.
Hope Creek; also located on the Hummingbird Highway, Stan Creek District.

Christmas time at Community Center in Hope Creek.
Duck Run 2; located in the Spanish Lookout area, Cayo District.

Duck Run 2 owns two community buildings, one to be used as the Resource Center.
St Mathews; located on the Northern Highway, Cayo District.

One of two community owned building in St Mathews. One of the two will be used as the new Resource Center.
Of the four communities only Community Valley has a completed, secure Community Center that has electricity. The St Mathews, Hope Creek and Duck Run 2 villages are all actively updating their community buildings to have them suitable for Resource Centers.
If you are interested in going on the next rci mission please contact mel honig, project coordinator at Gailmel75@yahoo.com.
Mel Honig, Newsletter Editor
Theme song: Building Opportunities
By Laila Salins*
Resource Centers International
One by one, strengthening communities,
Resource Centers International
Building new opportunities.
Rotarians, wherever they go,
Honoring service above self –
Resource Centers International
Together we can make this vision grow.
*Laila Salins is a composer/musician/singer who makes her home in the New York City area. Please check out her website at: