In Brief
"The overall impact I think this project will have on the community is to unite the community to work together. In the past people would just expect foreigners to come and give everything. That included the money, maybe they work themselves and they wouldn't invest part of their time for their own community. And now with this project we are having most of the community participating from the first day we started up 'til now and I know we will continue with the work and have much more people involved…"
-Interview with Felix Copo; Resource Center Board Chairman of Copper Bank
RCI just completed its fourth mission in Belize opening six new centers in the Corozal District. Felix, during his interview with us, embraced one of the basic goals of Resource Centers: community involvement and empowerment. The above quote is taken from an interview conducted by Justin Kendall, our computer expert, who is putting together an updated video of our work in Belize.
-Mel Honig, Newsletter Editor
Mission Four In Pictures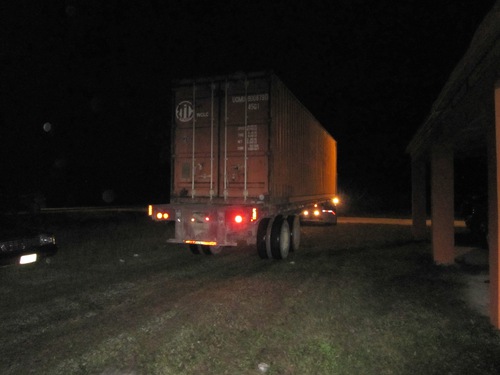 The 40 foot high boy container arrives at the Calcutta Community Center on Tuesday night (December 8) for unloading. Justin and Mel are here to help as are community members from Calcutta and Yo Chen. The remainder of the team will be arriving on Friday and Saturday. Mel arrived on December 4th, Justin on December 8th.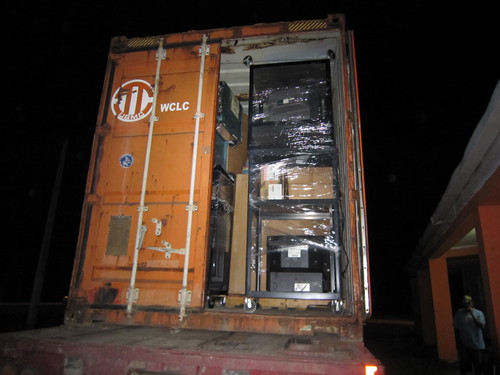 The container was packed with enough supplies and equipment to outfit ten (10) centers. Anything that could be disassembled was so that we could maximize all the available space. Everything arrived in excellent condition.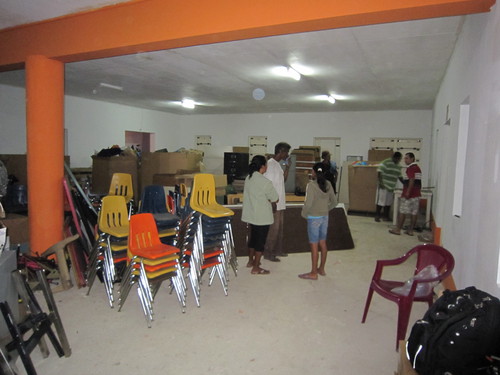 This is only part of what was unloaded. Next everything was sorted and divided among the 6 communities in Corozal District and the remainder was stored in Camalotte, by Belmopan Rotarian Eric Maas, for the 4 sites to be completed during our next mission scheduled for March 2012. The town of Calcutta cleaned and then painted the community center in anticipation of having the Resource Center.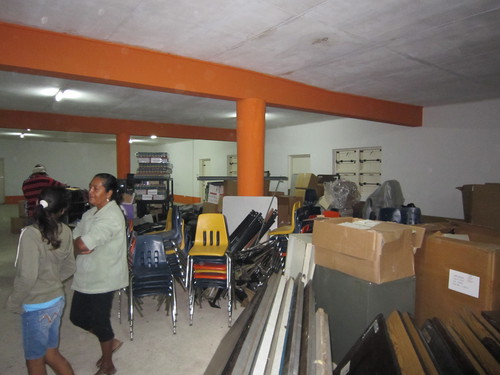 A view of the rest of the shipment stored at the community center. The computers were stored in a secure room in the center.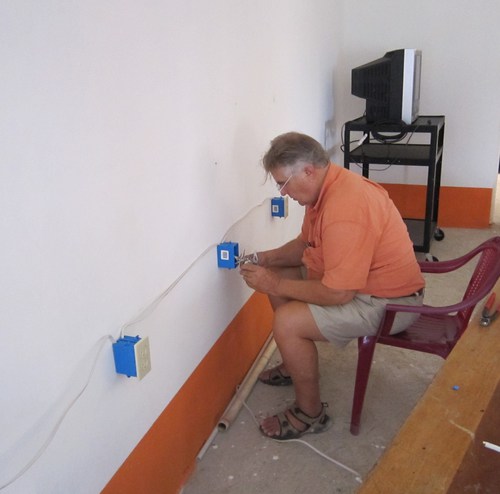 While Mel sorted everything at the Calcutta Community Center, Jim Bolthouse (Corozal Rotarian) and Justin wired all six centers to be ready for the computers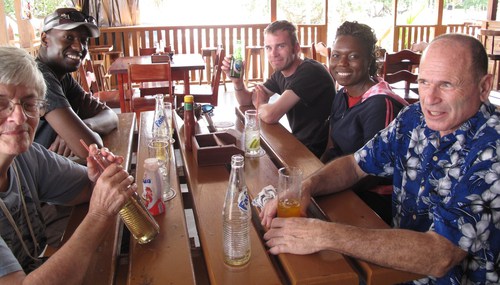 Meal time was planning time. From left, trainer Judy Riggle Oberlin Rotarian and third mission trip; trainer Tiri Mukurazhizha, first trip; engineer and computer expert Justin Kendall, third trip; trainer Bea Mukurazhizha, first trip; project manager Mel Honig, Sylvania Rotarian, fourth Mission trip.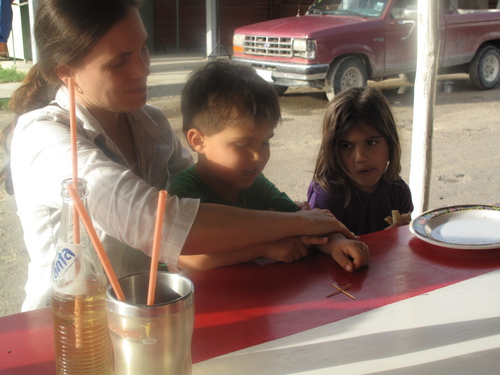 The rest of the team: Trainer Elana Honig-Juarez, third trip; Helper Alejandro Juarez, third trip; helper Sophia Juarez, second trip.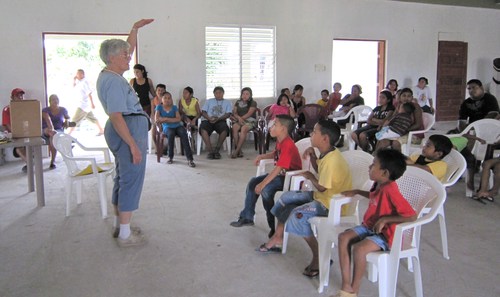 An integral part of training is meetings are with people to be trained, high school students and Boards of the Resource Centers, as well as leaders of the community. Here Judy is meeting with members of the Community of San Pedro, who are interested in helping operate the center.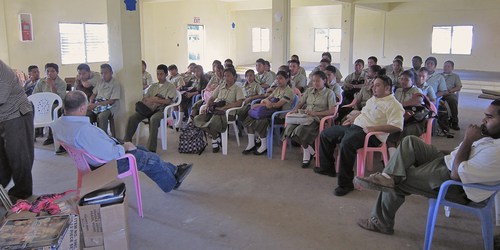 Mel meeting with the high school students at Chunox:To the right are two of their teachers who are also interested in having their students participate in the Resource Center. We have found that youth participation in the Resource Centers is critical for many reasons. The students are not only the ones who potentially can benefit the most from the centers, but also are, in general, the best educated members of the community. The Government is putting great emphasis on educating the youth of Belize. They are rapidly expanding accessibility for young people to attend high school; have programs in place to have teachers and administrators obtain degrees in education; and are encouraging Belizeans to become accredited teachers.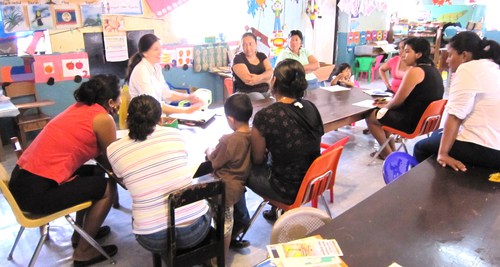 Elana conducting training in Progresso:Training involves discussion and hands on experience with the computers, books, and other resources brought to the communities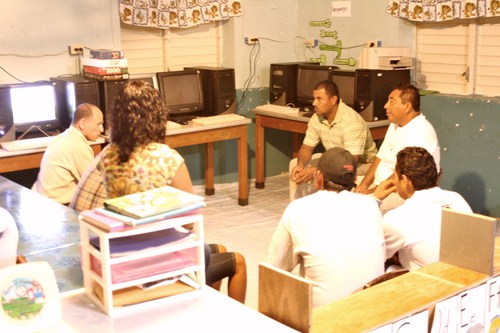 Mel meeting with the Resource Center Board at Progresso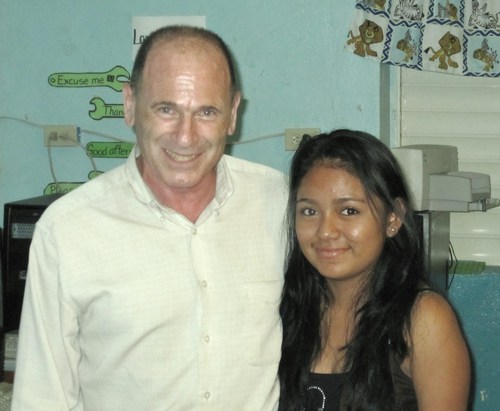 Our youngest Board Chairperson is 16 Year old Anniely Pech. She has been promised to get plenty of help from the other members of theProgresso Board.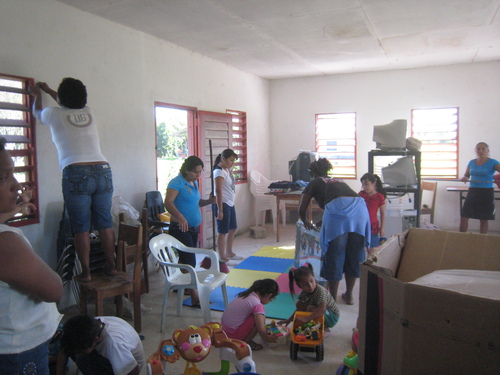 Bea helping get everything organized at Yo Chen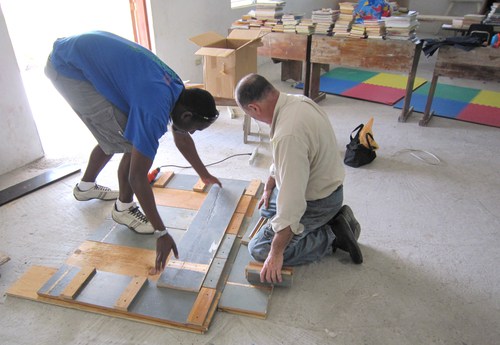 Tiri and Mel building bookshelves at San Pedro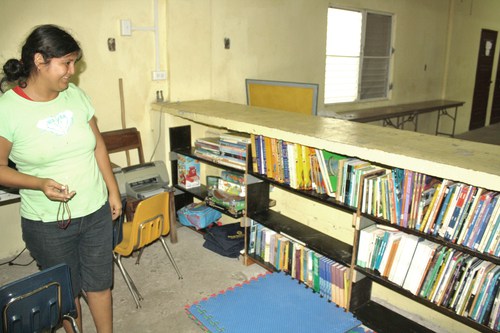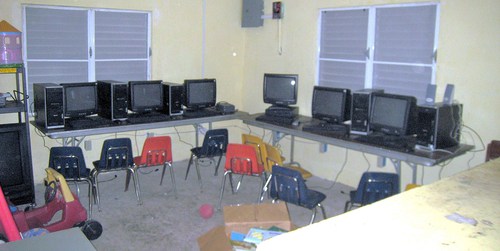 Leidy Santoya, Chairperson of the Chunox Board checking out her new library. The town of approximately 1000 people did not have a library or internet prior to our visit. With the computers in place (pictured bottom) they are actively looking for internet service.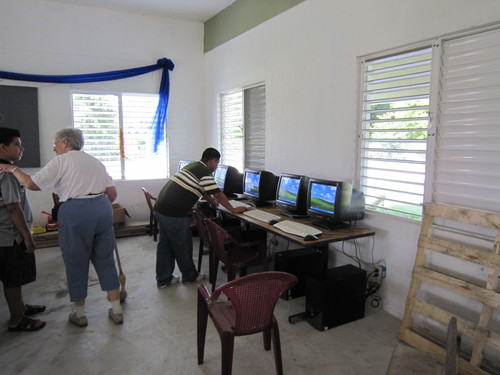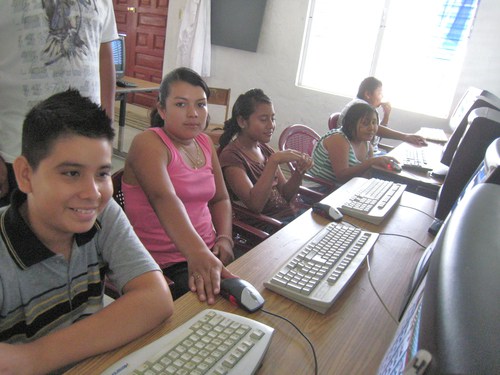 Alberto Cob the Resource Center Board Chairman at San Pedro checks out their new computers, while Judy works with one of the high school students. In the picture on the bottom, students are enjoying computer class. All the communities, except Calcutta, do not have access to the internet. Students must travel to another community (usually Corozal Town) to do any research for school projects. Now they are all working on getting internet to their centers.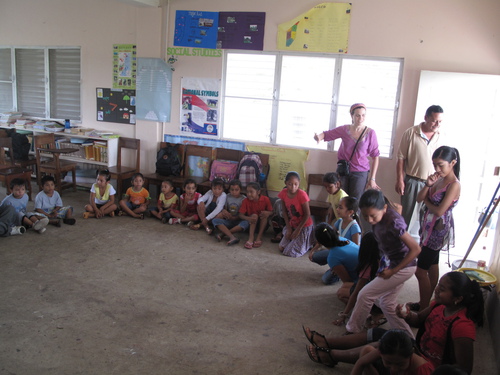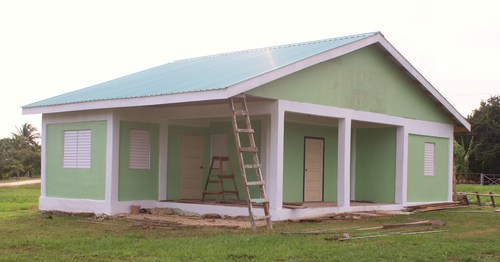 Elana presented music classes at the Copper Bank Primary School. We did limited training in the community because their new Library/Resource Center had not been completed while we were there. The building still needed electricity and a ceiling. We did supply them with games, toys, computers, TV/VHS recorder and VHS tapes. When their Primary School principal came to us with a request for a computer because his school did not have a functioning one, we fulfilled the request.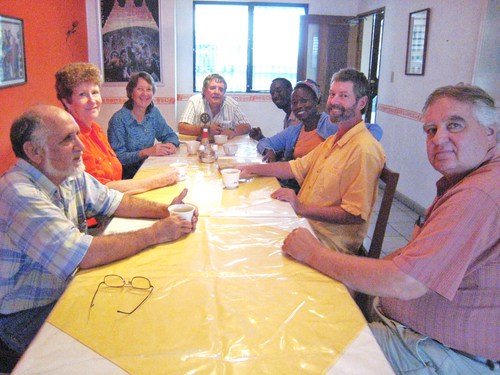 At the Corozal Rotary Club Meeting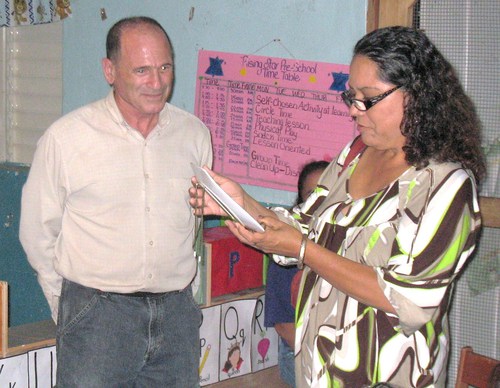 Eleanor Carillo, Early Childhood Education Coordinator, Ministry of Education, Orange Walk District, is presenting a plaque to Rotary International for their help in establishing a Resource Center in Progresso.
Faces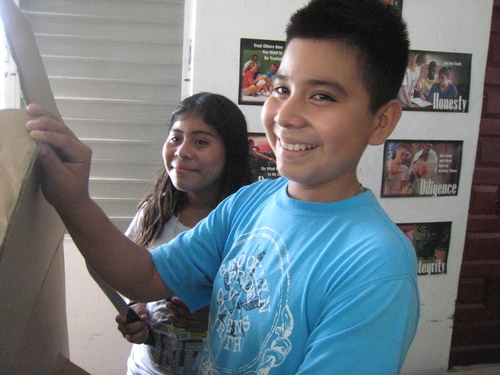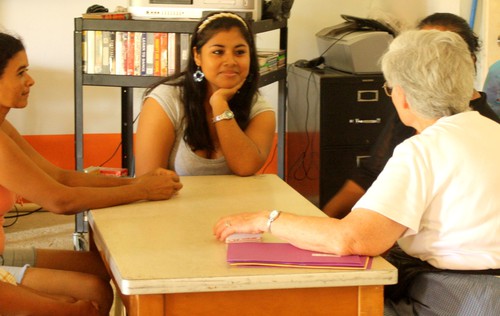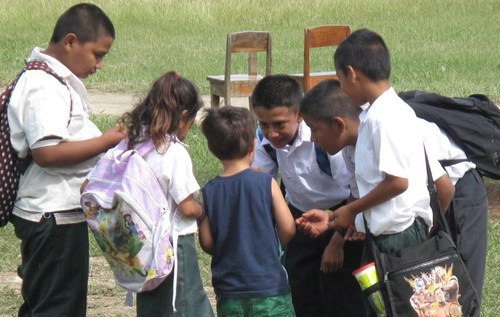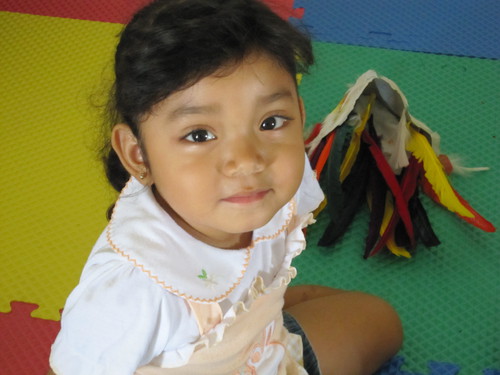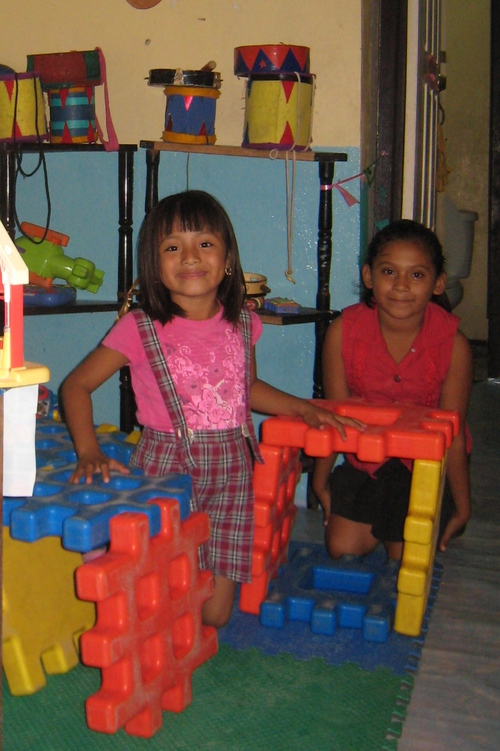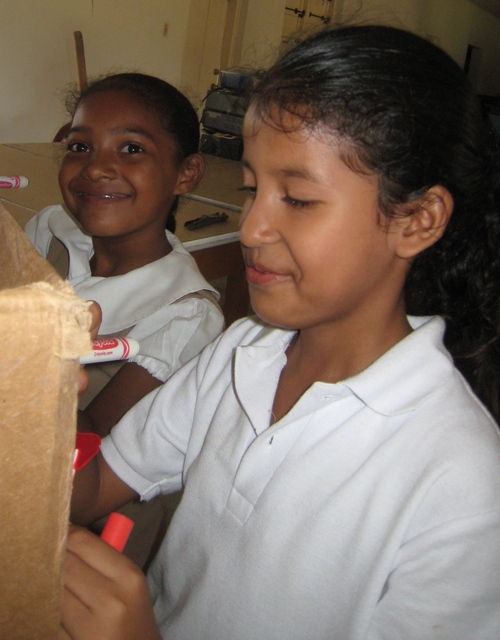 Smiles and cooperation was the norm. Although not rich in money or possessions, the people we met were optimistic about their future. This showed in their attitude and willingness to participate.
Special Thanks to:
David Akierman, Director of the Free Trade Zone, who arranged free trucking to get our product from Calcutta to Camalotte for next March's mission when we will establish four new centers.
Eric Maas, Belmopan Rotarian, who acted as consignee for this mission and is storing all the product for the next four resource centers.
Jim Bolthouse, Corozal Rotarian, who not only participated in the mission, but also loaned us his car when he was unable to participate because of prior commitments
MISSION FOUR, PART 2
With the Corozal mission over, Project Manager, Mel Honig still had two more days to spend in Belize. Meeting with Loyden Bejereno they worked on:
How Resource Centers International would continue operations in Belize, and
Finding four communities to establish Resource Centers in during our March 2012 mission in the Stann Creek and Cayo Districts.
Loyden has 15 years experience as a Primary School Principal and is currently on paid leave to attain his degree in Education at the University of Belize. His passion is to advance the level of education in Belize through community involvement.
For '1' Above Loyden has volunteered to be our liaison in Belize. His first mission will be to establish a Resource Centers International Board in Belize. The Board will support those aspects of the program that involve working with communities that already have centers and qualify communities for future center sites.
For '2' above Loyden and I already did a lot of homework in identifying five communities as potential Resource Center sites. What he had not done up till this time is physically visiting the sites. It was now our task to visit these communities in order to finalize commitments. All did not go as we thought it would!
Two were immediately eliminated as not suitable. A third site had concerns about the security of the Community Center building and its location close to the highway. At the fourth site, Duck Run 2, Ruth Perez immediately volunteered to be President of the Board and agreed to host a Resource Center in the community. We spoke to a member of the Village Council at the fifth site, but they have yet to get back with us on their participation. Currently there is only one sure site from the original five we thought we had.
One out of 5 is not good odds, but not to give up. We 'dropped in' on several other communities. The Chairperson, Blanca Chan, at Valley Community said they would hold an emergency board meeting that Saturday night and make a decision. Loyden got a call two days later that they were definitely interested in having a resource center in their Community Center. At St. Mathews, we met with Ephraim Perez, Assistant Principal of the Primary School and member of the Village Council. They had two community buildings, but both were rented. Loyden again got a call a few days later and St Mathews will renovate one of the buildings to be used as a Resource Center. We now have three sure sites for our March mission, with a probable fourth at one of the communities we had already visited.
-Mel Honig, Newsletter Editor