In Brief
We are placing Resource Centers in three communities in Stann Creek District (Hope Creek, Valley Community and Alta Vista), and one in Cayo District (Duck Run 2) during our may 19th – 25 mission. This will be our 5th mission and first one which we will be team teaching with Belizeans. Each mission member from the United States will partner with an educator from Belize to help set up the centers in order to then train community members in their maintenance and operation.
So far we have two individuals committed to go on the mission. Dan McCormick, Computer Expert will be going on his third mission; Mel Honig, Project Coordinator will be going on his fifth. We need more people to step up and volunteer to go on the mission. If interested please contact Mel Honig, Project Coordinator: email Gailmel75@yahoo.com.
BGSU Donates Computers
Article in the Bowling Green State University Newspaper by Jennifer Lynn Sobolewski
Twenty Dell computers that were slated for recycling will soon be on their way to Belize, thanks to a unique program run by Resource Centers International.
Resource Centers International is a project of the Rotary Clubs of District 6600, which covers most of northwest Ohio, and its international arm, Medical Equipment and Supplies Abroad.
The computers will be loaded with educational programs and shipped along with donated tables, chairs, books, games, TV's and VHS tapes. All the items will be set up inside community Resource Centers to help improve early childhood English classes.
Mel Honig, project manager for Resource Centers International, enlisted the help of the Bowling Green Rotary, which led to the donation.
"Belize has a strong national focus on education, and this project fits right in with the philosophy of the country," said Honig.
A team from Rotary will head down to Belize in May and bring the items to rural towns that were identified in December.
According to Deb Wells, director of client services for Information Technology Services (ITS), the computers were in storage waiting to be recycled for parts. "We're thrilled to be able to do this," she said.
ITS also donated additional keyboards and mice too.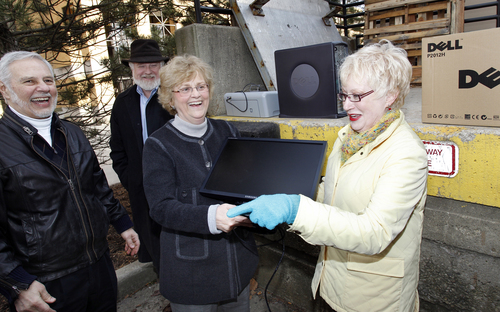 Pictured are Bowling Green Rotarians from left District 6600 Governor Elect, Bob Vincent: Bowling Green State University President, Mary Ellen Mazey; and Bowling Green Rotary Club President Dinah Vincent, helping load donated computer systems.Photo by Craig Bell, Bowling Green State University
Note from RCI: All computers are checked before sending to Belize to insure they are functional. As a minimum we accept no computers older than 7 years and they must have XP or later operating systems.
"The Resource Center International Theme Song"
By Laila Salins
"Resource Centers International
One by one, strengthening communities,
Resource Centers International
Building new opportunities.
Rotarians, wherever they go,
Honoring service above self –
Resource Centers International
Together we can make this vision grow."
Laila salins is a song writer, singer, composer living in the new york city area. You can check out her work on:
Http://www.lailasalins.com/lailasalins/home.html
.
Pictures of the Resource Center sites are synchronized with the song.
District conference
At this year's District 6600 District Conference we are having a booth in the Friendship House. The purpose is two-fold. First to advertise the work we are doing to conference attendees and secondly to secure funding for our missions in fiscal year 2012-2013.
We need help to 'man' the booth. Only requirement is not being shy about asking conventioneers for a donation to help buy the necessary equipment and supplies we send to belize. If interested please let me know and I can fill you in on the details (mel honig, email:Gailmel75@yahoo.com). The conference dates are April 19 – 22.
It is almost inevitable that when I give a presentation, or talk with someone about the Resource Center project I am asked two questions. One is why Belize, and the other is why this project. The following article is the answer to the latter of the two questions.
Mel Honig, Project Coordinator
Education is the key
The Lie
When the family was in Mexico in the late 1980's, visiting our daughter who was living there, we went to a beach side community south of Acapulco. Always looking for something different, this was one of very few black communities in Mexico. Populated by former slaves who escaped to Mexico, they settled in this out of the way place along the Pacific Coast. The town was picturesque and quiet, just the opposite of bustling Acapulco. We camped on the beach in front of a restaurant. Ate breakfast the following morning, and got water out of their cistern to wash off the salt from our morning swim.
There were two young couples camping on the beach by us. They were from Mexico City, and obviously rich kids. The conversation centered on the plight of the campesinos. Their take was that 'once you are born into poverty, you are doomed to die in poverty, never rising above your station'. It wasn't until many years later on a trip to Paraguay and then Ecuador that I discovered how big a LIE this was.
The Exception
We were visiting our exchange students from Brazil and Paraguay on this trip. Arriving in the city of Colonel Oviedo, Paraguay we immediately knew it was election time. Driving through downtown there was a big sign over the main street …Welcome home Violeta (our exchange student)… along with the many signs of Armando Mendoza for Governor (her father). Yes, her father, a lawyer, was running for governor of the state of Caaguazú. Armando was a successful and respected man of his community. He had many brothers and sisters: all of them lawyers, doctors and engineers. And what of his parents: poor campesinos scratching a living farming the soil around their hometown.
How did they all become successful considering they were born and raised without the advantages of the wealthy? Armando told me his mother made sure they worked hard in school. She was very strict. They all had to do well in school and go on to University.
Paraguay is different. Where, in other countries the Spanish liquidated the local population, here they intermarried and kept the culture alive. In fact, Paraguay is a bilingual country with both Spanish and Guarani taught in schools. I thought maybe this is a special case of being born in poverty, yet rising above your station.
Another Exception
Many years later, visiting our exchange student in Ecuador… it was almost a deja vu experience. Juan's father is a neurosurgeon and his mother a pediatric orthopedic surgeon. Both his mother and father were born into large families that did not have the advantages of position or wealth, yet all of the siblings are doctors, engineers and lawyers.
Now this is getting a little scary. If we educate everyone does this mean that we will only have doctors, lawyers and engineers living in these developing nations? Supply and demand dictates otherwise, but what exists is a great demand for a strong middle class. It is this class that insures democracy works and you have a country that creates wealth for the majority of its people, not just a special few.
Food vs. Knowledge
In the fall of 2004 I went to El Salvador to work for Hogar Medina, a home for street boys. The boys were referred to the home by Social Services because they were intolerable at home and went to the streets, or home was intolerable for them and they sought the refuge of the streets. I was a Rotarian then and went on several Rotary related projects, especially clean water since this was the year of Clean Water.
I also went to an orphanage. The year before our Rotary District made a one-time donation of $17,000 to the St Vincent De Paul orphanage in the capital city of San Salvador to pay for food for one year. The sister in charge conducted the tour, and when I apologized for not repeating our offer to pay for food for another year she said: "that's not important that they go to bed hungry at night. What we need here is vocational equipment to give the children training so when they leave us they will not go to the streets to become prostitutes, thieves and drug dealers."
Education
I also spent a great deal of time going to different water projects with Paul Darilek, the founder of Living Water El Salvador. He talked about the 'Refugee Complex' as a real problem. This is why his NGO (non-governmental organization) always included training as a part of any water well project they did. When visiting numerous sites it was always disturbing to discover that proper maintenance was not done and systems were allowed to deteriorate. Paul said their usual response was that they were waiting for us to come back and fix it.
To advance beyond high school in Latin America one takes a competitive test. If you score well on tests then you can go to University or Technical School, usually tuition paid by the government. If you do not score well then the alternative is private schools, if you have the money. Not everyone has grandparents like Violeta or Juan who see to it that their children get an education. So how then do you uplift the masses and overcome generations of people living in an environment that does not value education?
One Possible Solution
Empowering communities with the tools, and also the responsibility to educate their citizens from the youngest to the oldest is one way. To this end Resource Centers International will continue its work of opening centers of learning in the rural communities of Belize, and hopefully in other countries of the Western Hemisphere in the near future. The only thing holding us back is the money to pay for shipping!