Although we did not meet our fundraising goal of $500.00 at the District 6600 District Conference we did raise $270.00 and made many significant contacts who will help with finding computers and furniture.
Presentations about the efforts of RCI were made at three District 6600 Rotary Clubs (Defiance, Oregon-Northwood and Waterville), The Sylvania Seniors' Center, Northwest Ohio Nurses Association, Interact Club of Southview High School and the Association of Two Toledos Spanish Awards Program.
Donations were received from the following:
The University of Toledo (tables, shelving, bulletin boards) coordinated by David Best, Rotary Club of the Sylvania Rotarian
Rotary Club of Bowling Green (books)
District Assembly (two boxes of video tapes)
Financial Donations from The Association of Two Toledos and several individuals.
The Interact Club of Sylvania Southview High School (games, toys, books)
We won an Award!!!!!! Each year at District Conference a Rotarian is recognized for "efforts to serve humanity and work towards world understanding and peace through Foundation programs." This year Mel Honig received the District Service Award, but it is only because of the hard work and generosity of hundreds of individuals who have supported Resource Centers International these past few years. We would especially like to recognize those who have participated in missions and the people of the communities who have accepted the responsibility of operating and maintaining their Resource Center.
Two new members have just joined the May Mission Team. They are: Brenton Gongora, a teacher in Belize and Jesse Molina from Toledo. Both young men are computer experts/engineers.
Support the MESA Bike Ride: click on the following link for information:
Http://www.rotaryMESA.org/bicycletour.html.
Please read on for stories about the District 6600 Conference and the MESA Bike Ride
Mel Honig, Newsletter Editor
Resource Centers International Goes To
District 6600 Conference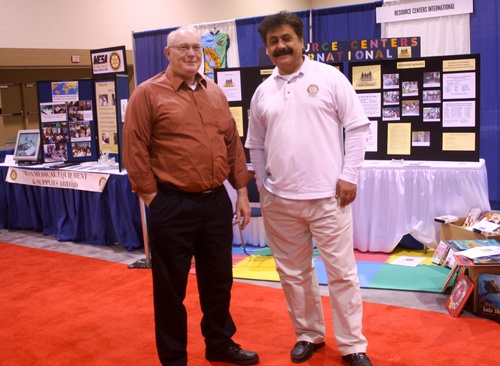 Pictured above is the Resource Centers International booth in the house of friendship. The house of friendship is the District's exhibition hall where rotarians and their guests can learn about District projects from our rotary clubs, grant recipients and District booths. gary davis (on left and north baltimore rotarian) is the MESA operations director and has helped immensely in obtaining, storing and shipping product sent not only to belize, but around the world. From the beginning andrew timothy (on right and sylvania rotarian) has helped put mission teams together, obtained computers and helped with much of the physical work necessary to get product from the united states to belize.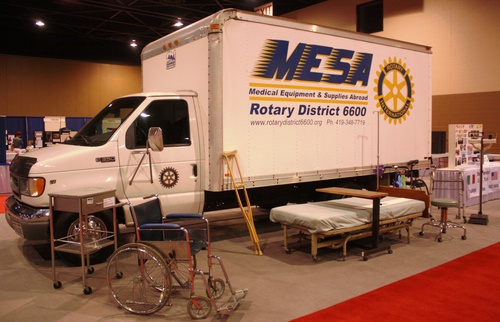 MESA is the 501 3 (c) entity of District 6600 that facilitates the coordination of District 6600 international projects and is available to help our District rotary clubs with their international projects. MESA's mission not only includes the shipping of medical equipment and supplies overseas but also humanitarian aid, training, project evaluation and disaster relief. Resource Centers International is defined as a humanitarian project.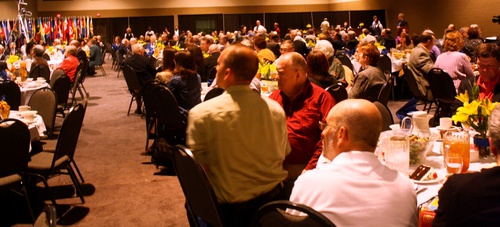 Each year every Rotary International District is required to have a District Conference. Held in a different location every year, this year's District 6600 Conference was held in Toledo, Ohio. Rotary International District 6600 has 63 Rotary Clubs and over 3800 members.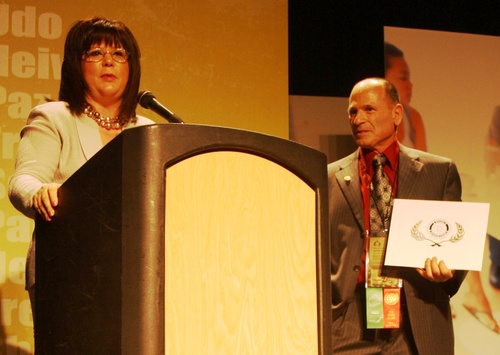 District Governor Helyn Bolanis is our first female District Governor, and is a member of the Rotary Club of Toledo. Her club has 450 members and is one of the largest Rotary Clubs in the world. It is also one of the most generous, lending valuable financial support not only to RCI, but also many other international projects.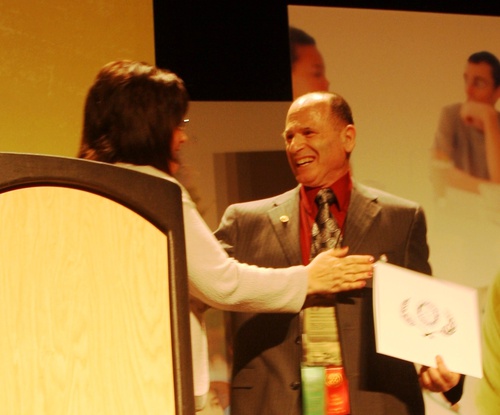 At each District 6600 Conference one Rotarian is selected to receive the District Service Award. In the photos above Helyn is presenting me with the award that reads: "Certificate of Recognition; for efforts to serve humanity and work towards world understanding and peace through Foundation programs." I feel that any project is never done by one person, but always a collaborative effort.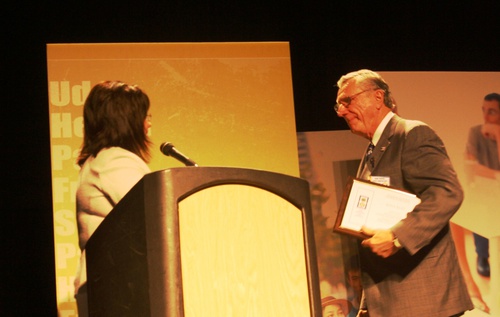 Bob Ruehl being honored by District Governor Helyn Bolanis is the District Foundation Chair (Rotary Club of Lima) and has been another valuable supporter of Resource Centers International. It is through his fundraising efforts and support that we have been able to accomplish so much in such a short period of time.
If you would like to obtain more information about District Conference click here
support the MESA Bike Ride
In its seventh year, the annual MESA bike now provides over 50% of MESA's financial support. Rotarians and non-rotarians alike participate in the casual, fun filled event. Along the route different rotary clubs sponsor the day's activities of providing breakfast, lunch and dinner, as well as overnight accommodations. This year the route will be in the western part of our District 6600. Starting on june 8Th we will leave marion and 6 days later finish in kenton after spending the night in upper sandusky, ottawa, defiance, van wert and lima after the day's ride.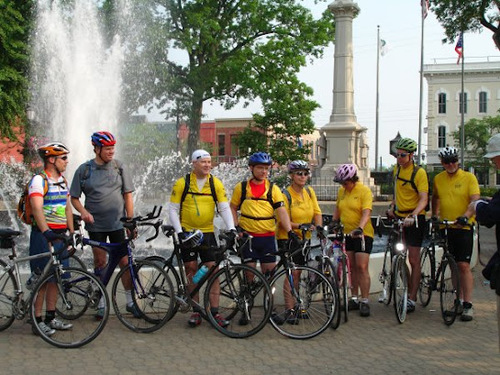 MESA riders from our first Bike Ride when we went from elyria to chicago to honor of our first 100 year celebration at the rotary international Conference
For the second year in a row RCI's Mel Honig will be participating as a rider. "I do this not because I love torture and pain but because it is an important fund raiser for MESA and I feel it my obligation to support MESA in any way I can, considering all the support they have given Resource Centers International since its inception."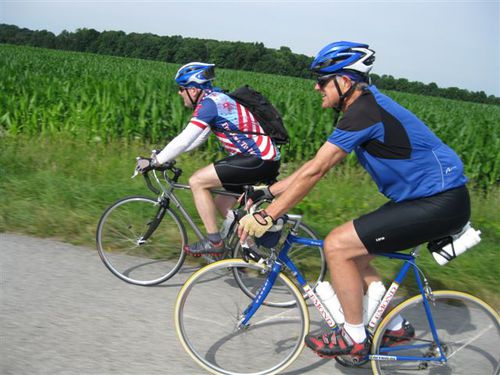 On the road during the 2010 Bike Ride
You too can lend your support by riding in the event or by pledging a financial contribution. To make a donation or apply to enter the Bike Ride go to: Http://www.rotaryMESA.org/bicycletour.html. Once at the site click on the 2011 tour informational brochure to make a donation, and if you would like to bike, click on the 2012 rider registration and pledge form. In the 2011 informational brochure where it says "rider/team sponsored ________________________" please put RCI, so that our MESA leadership knows who you are supporting.