"…I am convinced that these children need to be exposed to English earlier in life. This becomes more and more prevalent every day that I visit the villages and teach in the schools and unless the directions are repeated in Spanish the kids are completely lost. This is a great project and I'm excited for the effects it will have in the villages with children and adults alike".
Email from Max Roisinger,
Peace Corps Volunteer, Corozal District, Belize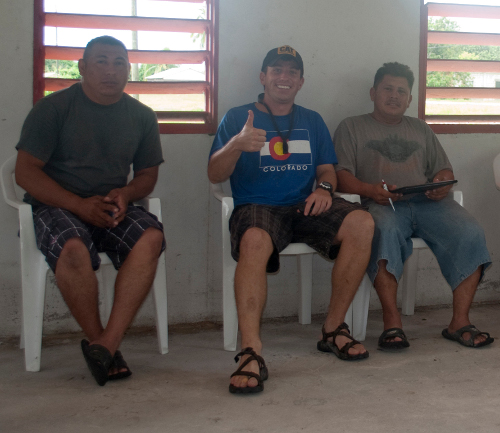 Max giving the thumps up at a meeting in the community of Yo Chen
In Brief
October was a busy and eventful month; the equipment and supplies collected over the past year and stored in the MESA warehouse were shipped to Belize; we received monetary donations of almost $2000.00; and two Rotary Clubs have actively joined the project. The Bowling Green Rotary Club will be sponsoring our missions in fiscal year 2012, and the Avon Lake High School Interact Club sponsored by the Avon/Avon Lake Rotary Club will be collecting needed equipment and supplies. We have almost completely assembled our mission team for this December. We are just waiting on final approval from Owens Community College. Two churches one in Wayne, Pennsylvania and the other in Bryan, Ohio will be donating excess toys and games from their annual fundraiser.
Who Helped With What!
Mel Honig, Newsletter Editor
Putting together the needed equipment and supplies for this year's missions took a great deal of effort from many individuals and organizations. Below is a list of contributors to this year's missions:
Equipment and Supplies
Organization/Individual, Contact, Item(s)
Vermilion Schools Sid Jordan Computers, Printers
Vermilion Rotary
Owens Community College Andrew Timothy Tables, storage units
Sylvania Rotary Chairs
Dental Health Associates Tim Thetford Computers
Swanton Rotary
Sylvania Family Services Claire Proctor Tables
Sylvania Rotary
Perrysburg Schools Chris Vogel Computers
Perrysburg Rotary
Sam's Club Chris Tierney Exercise Flooring, supplies
MESA Gary Davis Storage units, toys/games
North Baltimore & Bryan Rotaries
Catholic Diocese of Toledo Father Bob Haas Books and supplies
Galion Rotary
St David's Episcopal Church Elana Honig Games and toys
Hebrew Academy Marjorie Siegel Televisions & VCRs
Sylvania Recreation Corp Tom Cline Sport Equipment
Sylvania Rotary
Jerry Peacock Waterville Rotary VHS Tapes
Judy Riggle Oberlin Rotary Games and supplies
Emily McManns Findlay Rotaract Supplies
Dental Group West Richard Thomas Televisions
Financial Contributions
Organizations:
Findlay Noon Rotary Club
Toledo Rotary Club
District 6600 Simplified Grant
Home Depot
Individuals:
Jeff Gast
Heinrich Family Trust
Mel Honig
Hunter Living Trust
Balthazar Juarez
If your club or organization would be interested in learning more about Resource Centers International please contact:
Mel Honig
419 843 4459 (h)
568 686 3406 (c)
gailmel75@yahoo.com
We will be glad to give a presentation to your organization! Our next presentation is at the North Baltimore Rotary Club.