News from Jamaica
Jamaica had been identified as the next targeted country for the planned expansion of the Resource Centers International (RCI) mission. From November 13-20, RCI Project Coordinator Mel Honig will be in Jamaica conducting a feasibility study. During the study RCI will be coordinating and working with the Rotary Club of Savanna-La-Mar and their President, Dionne Meyler.
The December Newsletter will feature an in depth report on the results ofthe trip.
Mission Team Members for Mission 6 (December 2012) Set
The Mission Team members are looking forward to opening 6 ResourceCenters in the Orange Walk District of Belize. They are:
From the United States:
Judy Riggle; Librarian and Oberlin Rotarian (fourth mission)
Jane Heringhaus; Primary School Teacher and Ottawa-Glandorf Rotarian(first mission)
MelHonig; Project Coordinator and Sylvania Rotarian (sixth mission)
Justin Kendall; Computer Expert and Engineer (fourth mission)
Elana Honig; Primary School Teacher (fourth mission)
From Belize:
Loyden Bejerano; Primary School Principal (second mission)
Roy Hendy; Computer Software Expert (second mission)
Brenton Gongora; Primary School Teacher and Computer Expert (first mission)
Eleanor Carillo; Preschool Education Officer, Ministry of Education (firstmission)
RCI is able to fulfill its mission due to the generosity of Rotarians, individuals, groups and businesses. Please click here for a story about the collection efforts of the Rotary Club of Bellevue, and pictures taken during the St. David's collection.
Donations received during October
| | | |
| --- | --- | --- |
| Item | Donator | Expeditor |
| Truckload of Games/Toys/Sporting Equipment | StDavid's Episcopal Church | Elana Honig/Kristen Ressler |
| Monitors, misc computer equipment | Weber Sterling Law Offices | Bill Hauprict/Connie Gross |
| Computers | Auglaize Dental Association | Dr. Barry Aab |
| Books & Poster Boards | Lourdes University | Denise Johnson/Dariel Jacobs |
| Monetary Grant | Rotary Club of Sylvania | Mark Abramson/Dariel Jacobs |
Rotary Club of Bellevue Donated Over 100 Computers and Chairs
Ohio School districts are constantly modernizing and updating their facilities and equipment. Old buildings are torn down and their contents sold at auction. These auctions are a boom to RCI because we can buy computers, chairs and tables at greatly reduced prices.
In September the Bellevue School District conducted several auctions, selling entire contentsof buildings scheduled for demolition. At these auctions the Rotary Club of Bellevue purchased over 100 computers and small children's chairs that they donated to RCI. We even picked up a video projector for $20.00 at one auction. Not only did they purchase the computers and chairs, but past Rotary Club of Bellevue President Mark Bishop updated all the computers, with the software and necessary memory so that they would run efficiently in their new homes.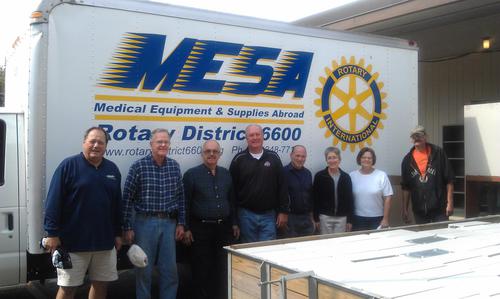 Bellevue Rotarians helped load the MESA truck that was packed full with monitors and chairs. The computers went to Mark Bishop's garage where he updated and later delivered them to the MESA warehouse.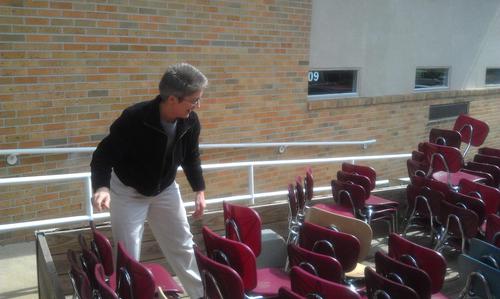 Molly Carver (Bellevue Rotarian) helping load some of the youth chairs that are destined for Belize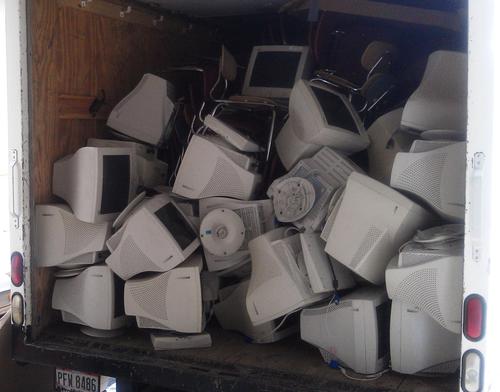 The old CRT monitors are big and bulky, but they travel well and are long lived.
Church Sales Benefit RCI
As the word gets out Resource Centers International is starting to benefit from Church sales. These sales are a great way for churches to raise funds and engage their congregations in a community effort. Not everything sells. In fact many of the items we are looking for are the ones left over are just the things we are looking for. We recently attended the sale at St. David's Episcopal Church in Wayne, Pennsylvania and loaded a truck full of games, toys, books, VHS tapes and sporting equipment that the church donated.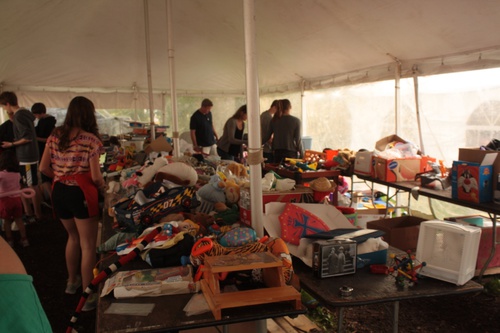 Each year St David's Episcopal Church (Wayne, Pennsylvania) has a huge fall sale and auction. This is the game and toy tent. After the sale anything left over was donated to RCI.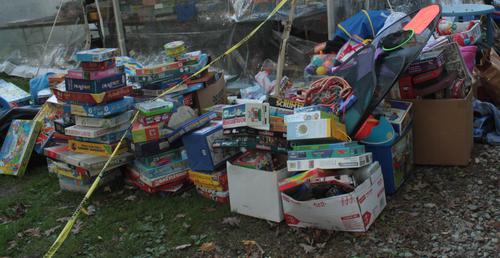 These are just the puzzles that were loaded into Mel Honig's truck. The 8′ bed truck completely was filled, as was the extended cab.