Mission 12 in Pictures Corozal District, Belize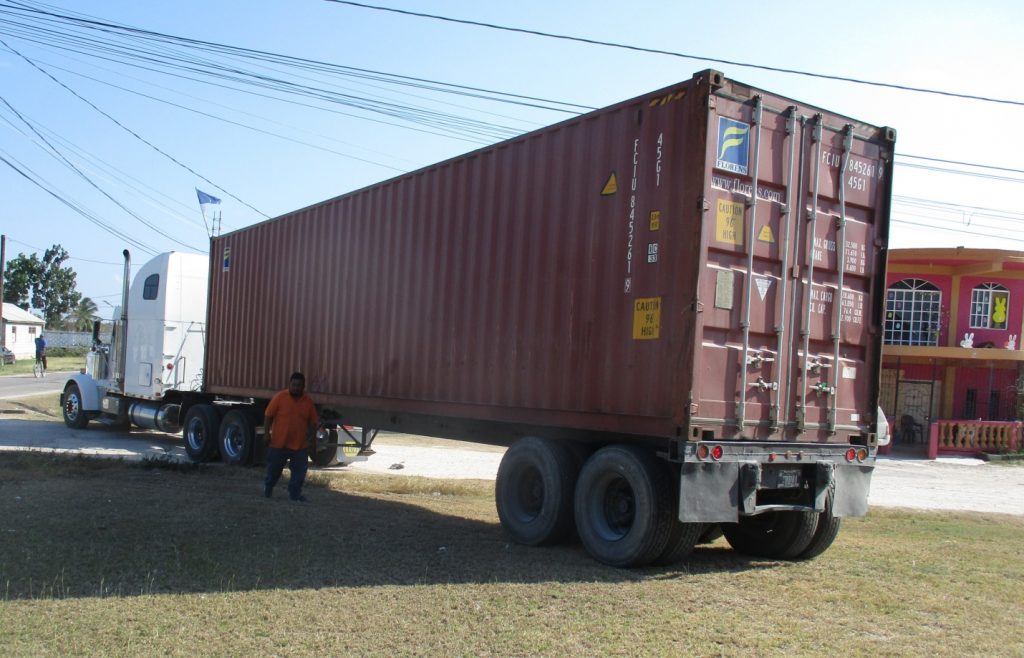 The container finally made it. It journey from our warehouse in Fostoria, Ohio to Dee's Superstore in Corozal Town, Belize challenges 'Gulliver's Travels' as an adventure. After loading the container and shipping it off to Cincinnati (its first stop) we were notified that they sent the wrong container and they would return it to us to be reloaded onto another container.
Next they did not get it on the container ship to Belize. They said there was no room… so it went out on the next ship. The container arrived in port 3 days before the mission team. Our Belize broker did yeomen's work in getting all the paperwork done in time to get it out on Monday. We originally scheduled pickup for the schools on Sunday so we already lost one day. Everything was cleared except the shipper did not release the container (yes the same one that sent the wrong container). Our stateside broker and the Belize broker worked all day on getting Seaboard Marine to release the container. Seaboard Marine in the States said it was released, while Seaboard Marine in Belize said they had not gotten the release.
Finally we get it late Tuesday afternoon: another day lost. We call the schools and that afternoon and into the night we get most of the product out. The following morning the rest of the schools pick up their allotment.
I watched as this young lady carefully examined each book. She would take one, leaf through it and then place it on the bookshelves we just built. She was still doing this when we left for another school. I asked her teacher about this young lady… and she said 'she loves books and reading and is not surprised by her interest/dedication'.
At the end of the Newsletter is a listing of schools that received resource centers and donations made to other organizations.
Acknowledging Some of Our Donors
Often times we are asked where we obtain the items we bring to the preschools. Some are purchased but most are donated. Recently we had some major donations.
It is important that we receive financial support over time because we purchase many items that are not donated in sufficient quantity to meet RCI's needs. We also purchase many items that are not donated. Over the past two donors have significantly helped financially: they are the Jim Heinrich Foundation and Balthazar Juarez.
Donations Received this Quarter
Educational Equipment and Materials
| Item | Donor | Expeditor | Rotary Club of |
| --- | --- | --- | --- |
| Games, toys, books | Interact Club of Brookside HS | Gina Eshke | North Coast |
| Televisions, chairs | Promedica | Bob DiNardo | Toledo |
| Shelves, file cabinets,Tables, chairs | Univ. of Toledo | Mel Honig | Sylvania |
| Games and toys | Dave Hunter | Dave Hunter | Sylvania |
| Games and toys | Gail Odneal | Mel Honig | Sylvania |
| Games and toys | Natalya Romanova | Mel Honig | Sylvania |
| Computers & flat screens | MESA | Scott Salyers | MESA |
| Soccer Balls | Sylvania Recreation | Mike McMahon | Sylvania |
| Soccer Balls | Kent Iler | Kent Iler | Elyria |
Financial Donations
Balthazar Juarez – $1,000.00
Presentations
Rotory Clubs of…
If you would like a presentation at your club please contact: Mel Honig, 567 686 3406 (mobile), melhonig.rci@gmail.com (email).
Schools Receiving Resource Centers
| School | # of Students 3-8 years old | All students |
| --- | --- | --- |
| San Antonio | 24 | 65 |
| Buena Vista | 26 | 67 |
| Christiline Gill | 125 | 240 |
| Concepcion Pres. | 48 | 168 |
| Concepcion RC | 66 | 150 |
| Calcutta Government | 56 | 105 |
| Chan Chen | 100 | 182 |
| Christian Assemblies | 10 | 55 |
| Libertad Methodist | 66 | 201 |
| Louisville RC | 71 | 152 |
| Ranchito Government | 82 | 239 |
| San Pedro Government | 30 | 107 |
| St Paul Anglican | 27 | 155 |
| Xaibe RC | 155 | 308 |
| Chunox RC | 58 | 192 |
| Copper Bank | 56 | 110 |
| Corozal Nazarene | 28 | 85 |
| Paraiso Government | 186 | 186 |
| Progresso RC | 50 | 87 |
| Sarteneja Nazarene | 75 | 197 |
| Progresso Rising Star | 35 | 35 |
Other Donations made to organizations in Corozal District, Belize:
Books, Televisions and VCRs to the Ministry of Education, Corozal Office
Gowns and Bed Linens to the Corozal Community Hospital