Mission 11 to Stann Creek
RCI's next mission will be to the Stann Creek District of Belize when we will open 18 to 20 Resource Centers in Preschools and Infant classrooms. The Mission will be co-sponsored by MESA, the international arm of District 6600 and the Rotary Club of Placentia.
Planning, funding and preparing for each mission are ongoing processes which involve Rotarians in the United States and Belize and educators in Belize. MESA will send a mission team to work with local Belizeans in the distribution of product, setting up resource centers and giving tutorials to teachers and administrators. It is estimated that the mission will provide valuable educational opportunities to more than 10,000 students over a 5 year period.
To be part of the team please contact Mel Honig at melhonig.rci@gmail.com. We especially need educators and IT specialists to join… but any Rotarian participant is considered a valuable asset. We do not have exact mission dates, but they will probably be the last week of November through the first week of December. Missioners are responsible for their own expenses which are only about $1000 USD.
About the Stann Creek District of Belize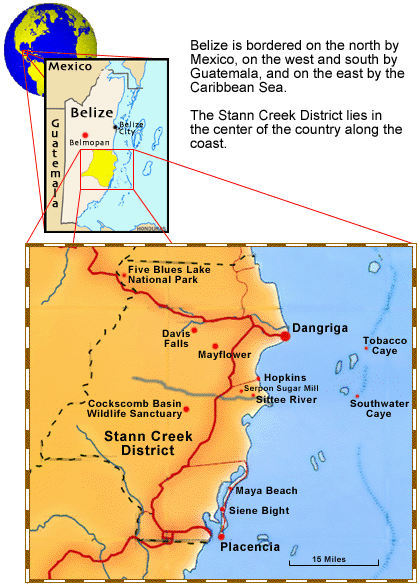 Stann Creek is one of six Districts in Belize and is located in the south central part of the country. The population of 33,000 is peopled mostly of Garifuna, Latinos of mixed heritage (mainly Maya and Spanish), Maya, Chinese, East Indians and ex patriots from the United States and numerous other minorities from around the world. The capitol is the Garifuna town of Dangriga. The Garifuna are an ethnically mixture of Nigerian, Arawak and Carib peoples. They settled in Belize in 1832, a day celebrated each year in the month of November. The Garifuna are proud of their language and culture and will gladly share it with you.
The economy of Stann Creek District relies mainly on agriculture and tourism:
Oranges, bananas, subsistence farming provide jobs, but they are low paying.
The coral reefs off the coast are the great attraction that attracts divers from all over the world, bringing in much needed capital.
The coastal tourist towns of Placentia and Hopkins have had very rapid growth the past ten years as 'ex pats' from all over the world settle in Belize… a very friendly and easy to live in country. This growth has greatly helped the construction industry as well as related service industries.
Although most of the population is poor, government services are widespread reaching the poorest and most isolated villages. The infant mortality rate in Belize is actually lower than in the United States as health care is universal. Education is mandatory to Standard 6 (equivalent to a 14 year old). Upper levels of school are optional and at a cost to the student. For a detailed look at the education system of Belize click on: https://en.wikipedia.org/wiki/Education_in_Belize.
The geography of Stann Creek is dominated by two factors… the Maya Mountains and the coastal plain. In checking out the below map please ask Kent Iler (Elyria Rotarian) about our adventure at Davis Falls during the last mission to Belize in 2017. The Cockscomb Wildlife Sanctuary is a must visit place… but you need to have a guide to take you on the upland trails that emanate from park Headquarters. The Sanctuary is home to jaguars, mountain lions, tapir, monkeys… etc. Of course these animals are not unique to the Sanctuary but can be found all over Belize, a country that values its heritage and maintains wildlife sanctuaries in every District.
To find out more about Stann Creek District click on their website: http://www.stanncreek.com/index.html. The site is for tourists… so if you want to find out about their education and health care system and the day to day lives of Belizeans come along on one of our Belize missions.
Partnering in Belize
MESA and its project, Resource Centers International, have entered into a working arrangement with Believe in Belize; an NGO started by Nabil Bedewi a Rotarian from the Rotary E Club of One World. Believe in Belize, like RCI, believes in the strength of education as a way to best help people live a better life. Believe in Belize is donating the 180 computer systems for our next two missions in Belize. For a complete description of the work we are doing together click on: https://believeinbelize.org/stories/project-205-computers-for-schools-in-belize.
Donations during the 2nd quarter of 2018
Educational Equipment and Materials
| Item | Donor | Expeditor | Rotary Club of |
| --- | --- | --- | --- |
| Computers, games & toys | Believe in Belize | Nabil Bedewi | One World (E Club) |
| VCRs, AV Carts | Owens Community College | Andrew Timothy | Sylvania |
| Computers | Mark Gross | Mark Gross | Sandusky |
| Tables, file cabinets, book cases | University of Toledo | Mel Honig | Sylvania |
| Truck load of Books | St Mary's Schools | Kimberli Glass | St Marys |
| Books, file cabinets | Misc. organizations | Scott Salyers | MESA* |
| Games and toys | Elana Juarez | Mel Honig | Sylvania |
| Games and toys | Natalya Romanova | Mel Honig | Sylvania |
| Soccer Balls | Sylvania Recreation | Mike McMahon | Sylvania |
*Items collected by Scott Salyers and/or dropped off at the warehouse
Financial
| | |
| --- | --- |
| Donor | Amount |
| Rotary Club of | |
| Sylvania | $1000** |
| Perrysburg | 2000** |
| MESA | 4000** |
| Audrey & Jeff Nagelberg | 400 |
**Restricted funds for 2 missions to Belize during fiscal year 2018-2019.