Mission 11 to Stann Creek
Updating RCI's next mission to Belize…
Rotary International District 6600 has generously approved a matching grant of $10,000 to fund the two planed missions to Belize.
A mission team has been formed to complete the objectives of the first mission to Stann Creek.
The container to Stann Creek will be loaded on or about October 11, 2018 with an arrival date at the Port of Belize on or about November 3, 2018.
The mission team will arrive on Saturday, November 24, 2018: and complete the mission by December 8, 2018.
We still have room for one more missioner from the United States… preferably a Rotarian with a background in education.
Introducing the Mission Team
From Belize
Mario Bull: Teacher from Dangriga on his third mission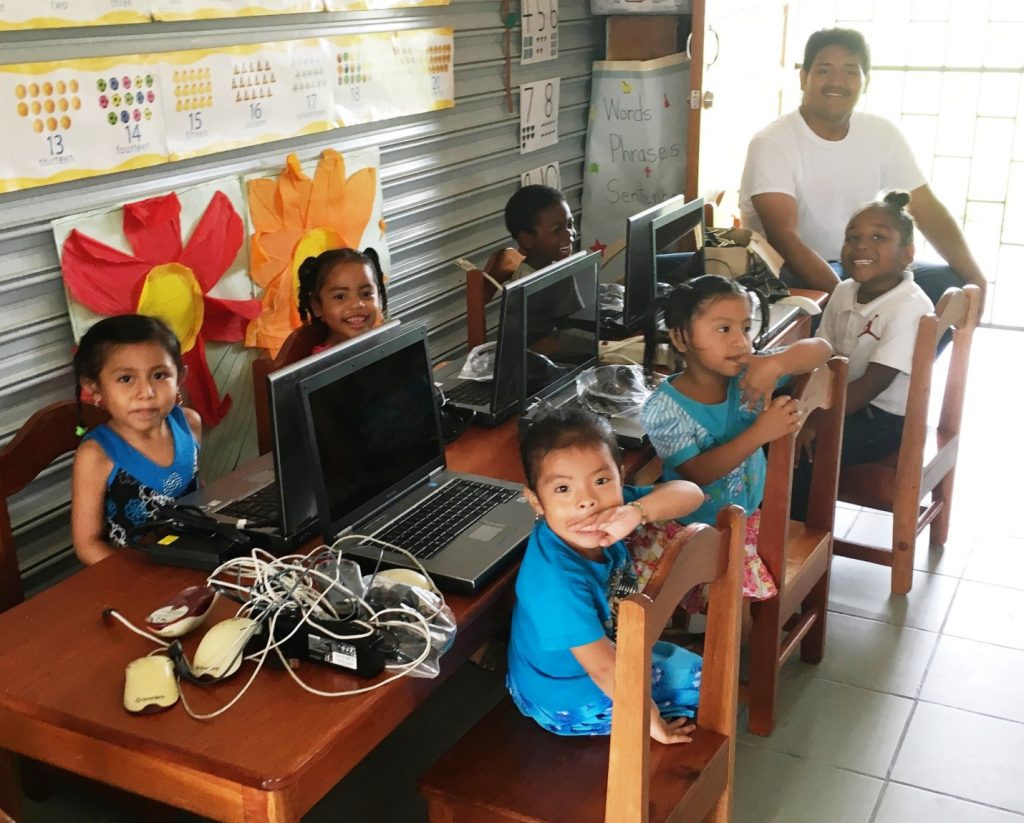 Mario is our miracle man.  Not only is he outstanding in working with children and fellow educators but also in bringing 'sick' computers back to life.  Speaking 4 languages fluently he is a great asset who understands the culture and always has a smile and the skills to solve any challenge.
Elcedia Awe: Teacher and former Principal from Dangriga on her second mission.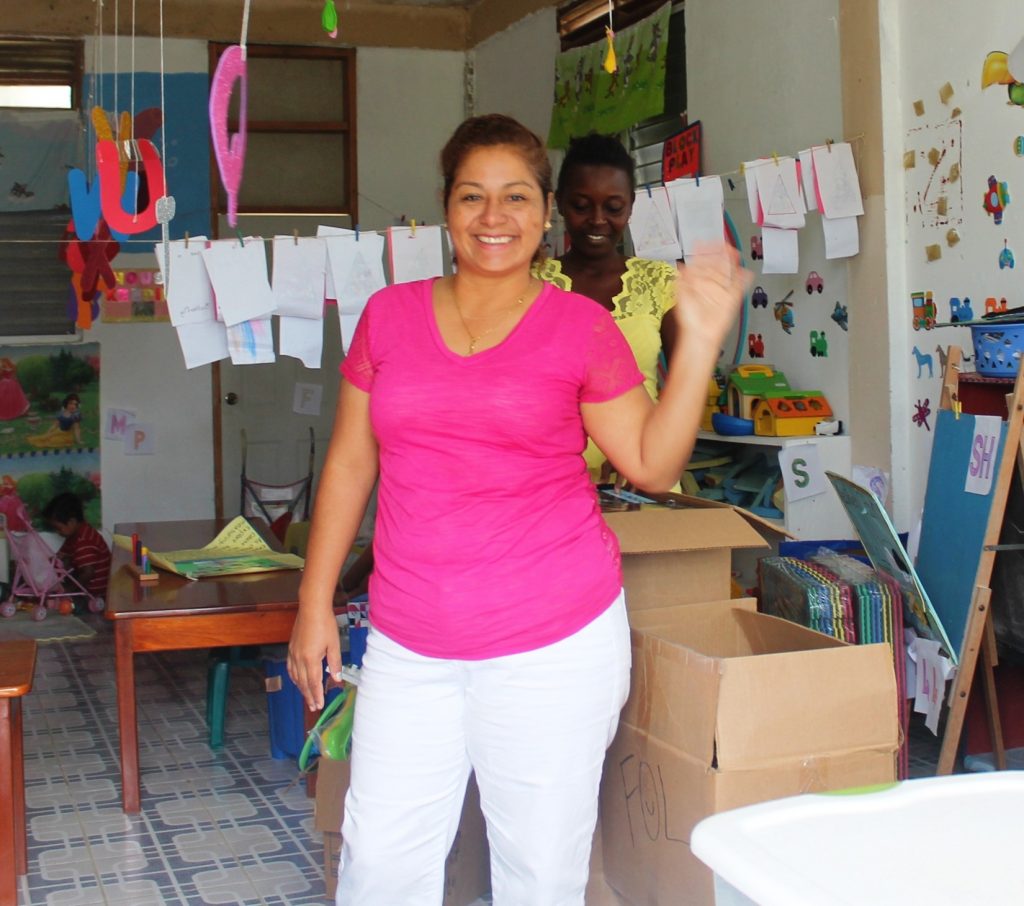 Always with a willing hand and ready smile Elcedia, on her second mission, helps the preschool teachers with setting up the library and using and integrating the educational products we donate to each school.
Olive Goodeye: Retired Principal and Punta Gorda Rotarian on her first mission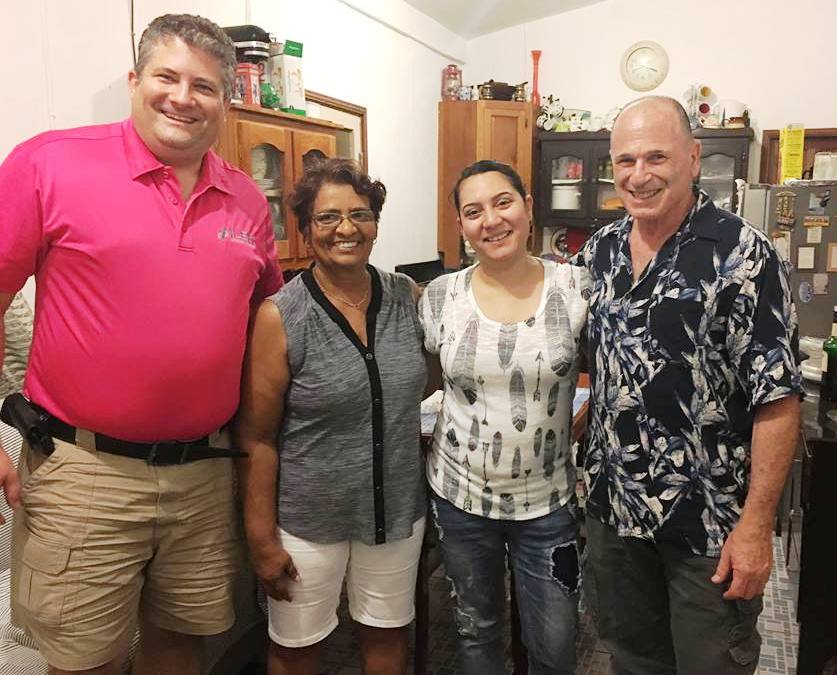 Second from left, this will be Olive's first mission with the team. Shown here with Kent Iler on left is Olive, her niece from New York and Mel Honig. This picture was taken at her home during Mission 9 to the Toledo District of Belize.
From the United States
Mel Honig: A retired Real Estate Investor and Sylvania Rotarian, Mel is on his eleventh mission to Belize. Pictured above, Mel coordinates the mission activities between the local Rotary Clubs, the Ministry of Education and the schools.
Will Mosby: Is a retired Computer Software and System Engineer and One World E Club Rotarian on his first mission to Belize. Sorry we do not have a picture but there will be plenty in our next Newsletter after we complete our 11th Mission.
Below is an abbreviated bio that Will contributed to the Newsletter:
A software and system architect with over 20 years experience, William "Will" Mosby has held senior engineering positions with premier companies such as Verizon, HP, Toyota, and Bank of America. In addition to finding the non-profit StreetCents Corporation, Mr. Mosby is the owner of DataScrapers LLC and Cynqbit Software LLC, an adjunct professor of computer science, and avid community volunteer. In his spare time, Mr. Mosby is a private, aircraft pilot and martial arts enthusiast – that enjoys traveling abroad and spending time with his family.
Mr. Mosby has spent his entire career turning trials into testimonies of accomplishments; and now shares those very lessons – both technical and tactical – with future generations of technology enthusiasts. A firm believer that any challenge that can destroy has an equal potential to positively define, Mr. Mosby focuses on establishing pathways to mobility by building on the experiences of both his and those that he mentors.
Team Members not going on this mission are:
Kent Iler; Elyria Rotarian, not only donates computers but also wipes and then downloads educational software onto each computer we send to Belize or Jamaica. Kent has been on 4 previous missions to Belize and one to Jamaica.
Justin Kendall; helps in the wiping and downloading of software onto computers and also manages the RCI website. Justin has been on 5 missions to Belize.
Amber Fisher; Elyria Rotarian helps in putting together the Grant Applications. Amber has been on 2 missions to Belize and one to Jamaica.
Donations during the 3nd quarter of 2018
Educational Equipment and Materials
Item
Donor
Expeditor
Rotary Club of
Computers/accessories
Doug Miller
Doug Miller
Toledo
Televisions
University of Toledo
Mel Honig
Sylvania
Truckload of Books
Books-4-Buddies/Laneta Goings
Mel Honig
Sylvania
Computer accessories, games
Luda Galay
Mel Honig
Sylvania
Tables, Chairs, TVs, wiring
Perrysburg Schools
Chris Vogel
Perrysburg
Toys, computer accessories
Natalya Romanova
Mel Honig
Sylvania
Computers, tables, chairs
Owens Comm. College
Andrew Timothy
Sylvania
Sports Equipment, toys
Gail Odneal
Mel Honig
Sylvania
Musical Instruments
John Kurfess
John Kurfess
Perrysburg
Televisions, computers, games
Devanie Doran
Mel Honig
Sylvania
Computers
Believe in Belize
Nabil Bedewi
One World (E Club)
Financial
| Donor | Amount |
| --- | --- |
| Rotary Club of Elyria** | $3000 |
| Jim Heinrich Foundation | 1000 |
| Chris Vogel | 200 |
**Restricted funds for 2 missions to Belize during fiscal year 2018-2019.