Changes at RCI
We have put in a request to District's International arm, Medical Equipment and Supplies Abroad (MESA) to 'adopt' Resource Centers International (RCI) as a MESA project. This request has been given tentative approval pending a meeting of the MESA Steering Committee. In the meantime the MESA website now has a link to the RCI website. The MESA website is: http://www.rotarymesa.org/.
The advantages to this relationship is that MESA will commit to 'supporting it through shipping, publicity and warehousing services', and 'to characterize the above project as an official MESA project in RCI's publicizing and fundraising efforts'. This affiliation will make it easier to give presentations to the Rotary Clubs in our District with the purpose of promoting awareness and raising funds for the project. The plan is to have individual Rotary Clubs 'adopt' a community in Belize. I have already given presentations to the Sylvania and Hicksville Rotary Clubs and have another one scheduled for the Vermilion Club in early October.
The 'Adopt a Community Program' will give our District 6600 Rotary Clubs an opportunity to become involved in an International Project with minimum difficulty. The Annual Bike Ride Fundraiser has been important in promoting the work of MESA, and hopefully our efforts in starting resource centers in Belize will also promote increased Rotary Club involvement in MESA.
On September 15, 2010 I will be going to Belize to take pictures of the four communities that have indicated a desire to have resource centers. The project team will be returning to Belize to help establish the new centers in December of this year.
Right now the project team members indicating they would like to go to Belize consists of:
Second timers from the first mission

Elana Honig
Judy Riggle
Mel Honig

New team members
We have many other individuals who have stated their interest, but have not yet committed. We will have an October meeting for all those participating in, or interested in the project, at Owens Community College. The purpose of the meeting will be to discuss and plan the December mission.
– Mel Honig
Project Leader
News from Belize
The following article has been submitted by Dr. Thomasine Baker, Associate Professor of Education at the University of Belize, updating the status of the three centers opened in March of this year. Dr. Baker has been instrumental in starting the Resource Centers in Armenia, St Margarets, and Salvapan. The Salvapan Resource Center is a project of the University of Belize, under the supervision of Dr. Baker.
Status of the Resource Centers in Belize
By Dr. Thomasine Baker
The Sylvania, Ohio Rotary, Family Literacy Center in St. Margaret's is ready for another session of computer classes. Several of the classroom teachers from St. Margaret's RC School have volunteered to teach computer classes, the enrollment fluctuates between 20-25 students. We offer two classes for school age students in the village and one class in the evening for adults. The center was closed during most of the summer and is gearing up for registration of new classes beginning Monday, August 30, 2010. We have the support of Dr. Thomasine Baker a UB professor, who has encouraged her student to volunteer for extra credit in assisting students in tutoring and homework centers.
Students working on computers in St Margarets
Armenia has had two summer sessions of computer classes, directed by volunteers from Jaguar Creek; one for school aged children and one for adults, they had a total of 28 participants officially enrolled in the summer program and 10-20 irregular attendees who also participated in football games, picnics on the playground and a community cleanup campaign. Mr. Pedro Garcia is working with a group of community residents in preparation for launching a new program in September. The community has expressed a desire to train more parents in using the computer in hopes of using these newly trained parents to maintain the center for extended hours. They would like to offer a program to accommodate after school tutoring and homework groups. Dr. Baker has arranged to have the students @ UB volunteer for the program and earn extra credit for community service.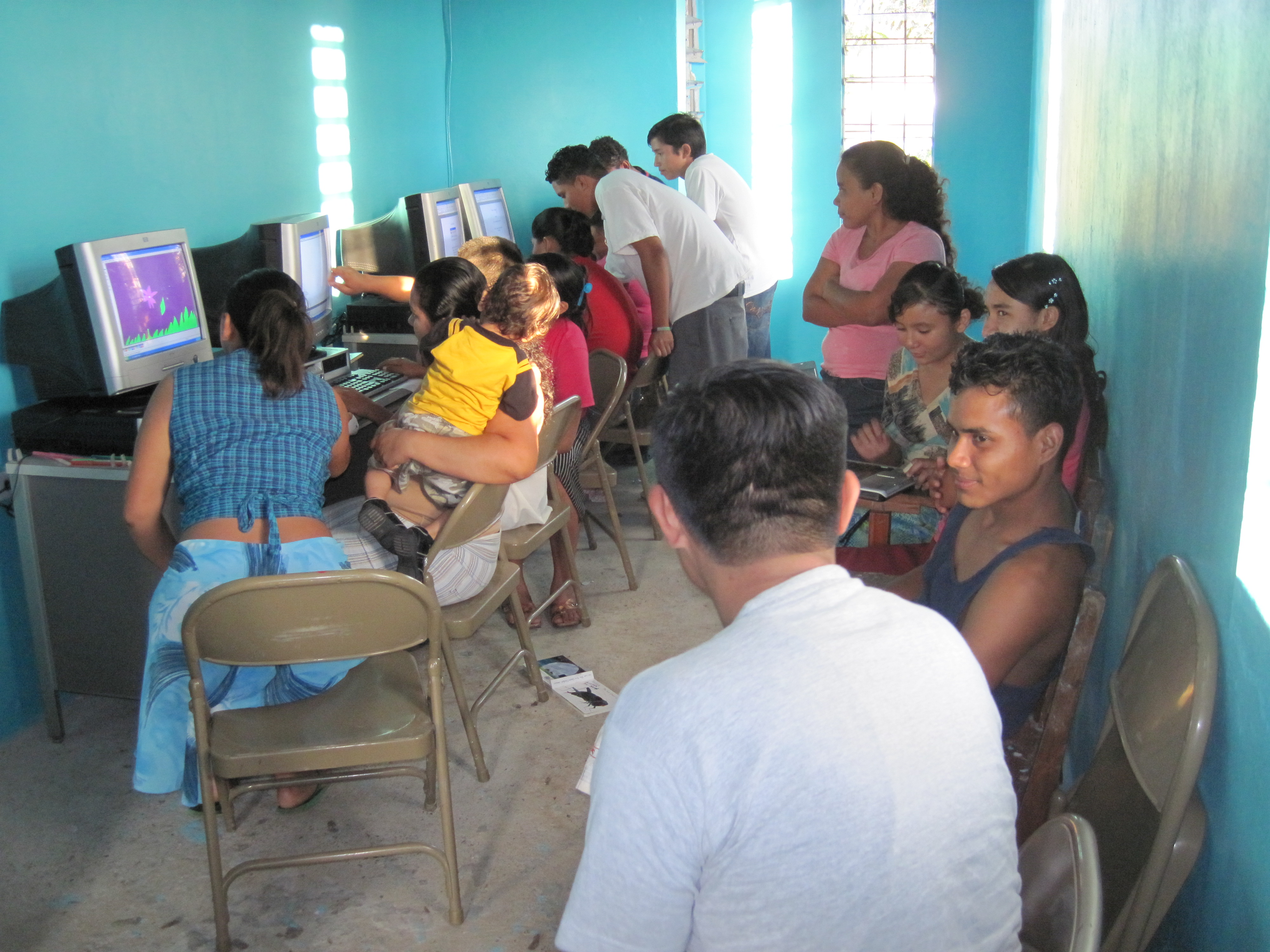 Students helping adults learn the basics of computers in Armenia
The program in Salvapan is growing by leaps and bounds; they have developed a program for the parents of preschool age children to learn and improve their computer skills, and participate in study/tutoring groups in a safe environment. We are asking parents and sponsors to donate books, technical assistance, computer programs, and educational toys to use in the Family Literacy Center Library. Classes are offered on Monday and Wednesday for primary school children and on Tuesday and Thursday for high school students. The programs are scheduled to re-open the first week in September.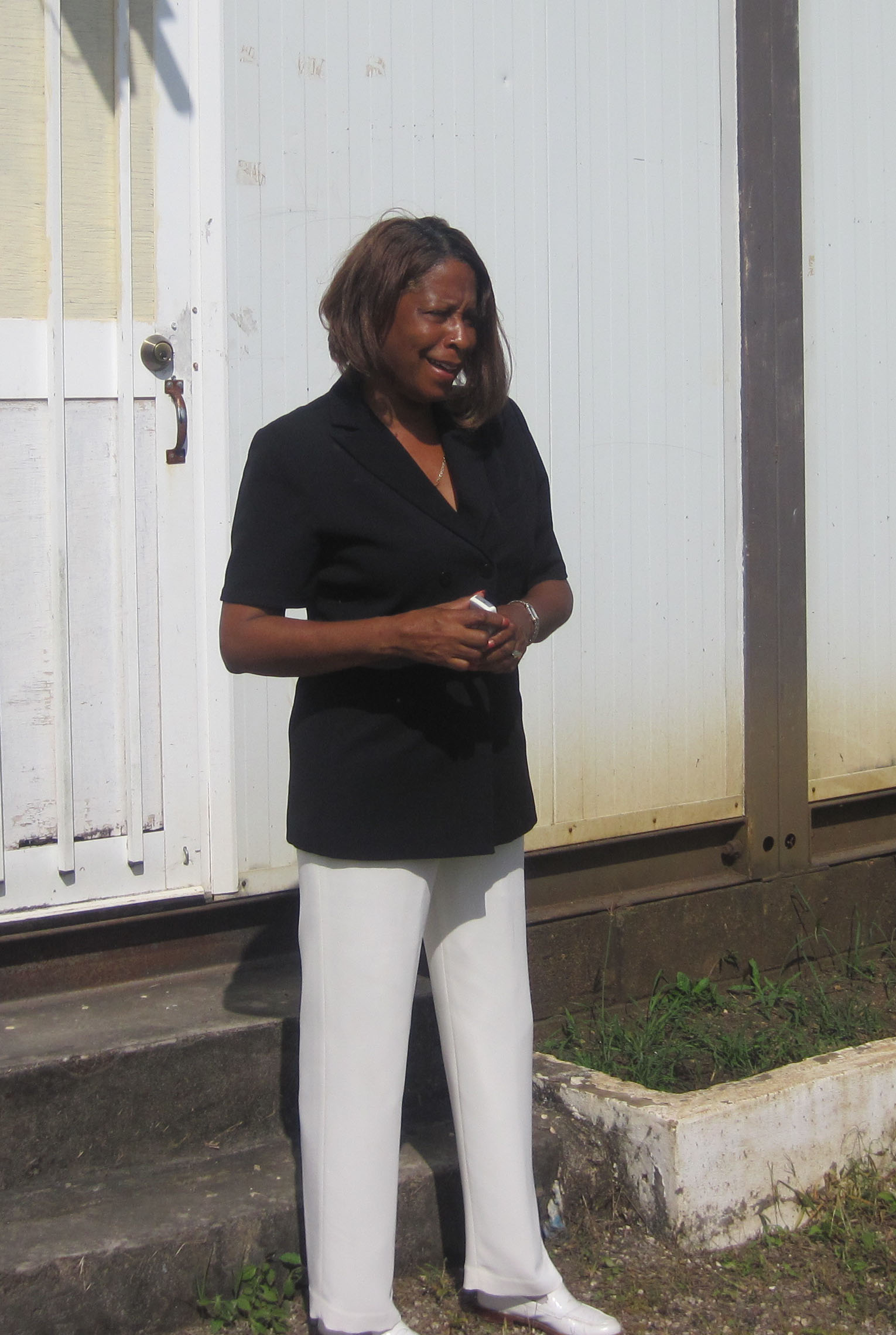 Dr Baker outside the Salvapan Resource Center