News You Can Use
The following websites provide free information and activities for children. They were researched by Susan Schaefer, Librarian and Sylvania Rotarian:
This is a partial list. With each Newsletter we will include additional websites that will give you access to free children's programs and English as Second Language programs.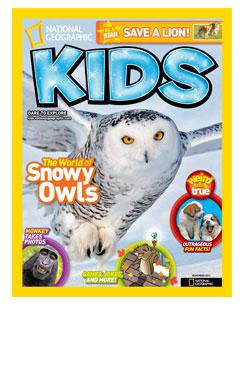 Fun Brain: http://www.funbrain.com/
Fun School: http://funschool.kaboose.com/
International Children's Digital Library: http://en.childrenslibrary.org/
IXL Math: http://www.ixl.com/
Kids.gov: http://www.kids.gov/
KidZui: http://www.kidzui.com/
KOL Jr: http://kids.aol.com/KOL/1/KOLJr
Learn for Good: http://www.learn4good.com/kids/index.htm
Lego Online Games: http://www.lego.com/en-us/games/
Merriam Webster's Word Central: http://www.wordcentral.com/
National Geographic Kids: http://kids.nationalgeographic.com/kids/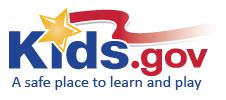 Look for more links in our next Newsletter
March Activity
Donated Equipment and Supplies
Item
Donor
Facilitator
Rotary Club
TVs, VCRs, Chairs, Carts
Owens Community College
Andrew Timothy
Sylvania Rotarian
Computer Systems
Stevens Worldwide
David Best
Sylvania Rotarian
TVs, VCRs, Tables, shelving, chairs
Lourdes University
David Best
Sylvania Rotarian
Gaylord of games/toys
Gail Odneal
Monetary
Your contribution could be mentioned here in the April Newsletter
Purchases
Books & VHS tapes Friends of the Library Margie Levy
Presentations
Rotary Club of Ashland
Rotary Club of Milan
Rotary Club of Antwerp
Interact Club of Edison High School
The Resource Centers International Committee
We are pleased to add Chris Vogel (Rotary Club of Perrysburg) to our Operating Committee. His valuable contribution is to research and apply for Foundation Grants.
The Importance of Preschool Education
By Mel Honig, Newsletter Editor
What is all the fuss about? President Obama is putting forward an initiative to have universal preschool education. Is it worth the time, effort and money to have a mother drop off her child and responsibilities at a location where other mothers take advantage of the same opportunity? You can make the argument that preschool education is in the best interest of the mother and maybe even the child… but why do I have to pay for it? Is there a cost benefit to me and society?
These questions have been asked and the benefits of preschool education evaluated in studies conducted here in the United States and around the world. The mission of Resource Centers International is to: 'establish Resource Centers in Infant and Preschools and libraries in communities that lack basic resources'.This project takes time, effort and money. So all these asked questions should be answered if we are to justify the efforts put into this project.
First, I have to say that this is not a scientific report with sources documented. Much of the information I get comes from National Public Radio (NPR). Whenever your favorite song comes on the radio you may 'pump up the volume'. This happens to me whenever education is discussed on NPR. I have included links to the studies discussed in this article. As you read, please open the links and get additional detailed information about the case studies discussed.
When does learning start? This story I heard on NPR is hard to believe, but here goes! The brain develops different learning 'pathways'. One of these pathways is language, and each pathway can have many separate paths… one for each language. These pathways are developed early in life and for the most part new pathways are not developed after the age of 25. Maybe that is why I can't learn Spanish… I never developed that second pathway early enough in life. This study discussed on NPR measured the language pathway development for language. Researchers spoke to fetuses in English, and yes they developed a language pathway prior to birth. Now the unbelievable part: They spoke to fetuses in English and a language other than English, and the children at birth had developed not one, but two pathways, apparently identifying the two languages as different. Interesting study… perhaps there is some wisdom to singing and talking to their unborn child. The brain is a marvelous organ, but how can we stimulate that brain to raise another Einstein, or even a normal child who is a benefit to society?
What are the results of preschool education studies? The following link leads to an article by Dr. Steven Barnett that summarizes the results of Preschool studies: http://nieer.org/resources/research/PreschoolLastingEffects.pdf
At the end of this article is another link to other preschool education studies as to the effectiveness of attending preschool.
There are two long term studies concerning the outcomes of preschool education I would like to discuss. They both involve families in the lowest socio-economic group where we find the issues of:
single parenting by young mothers
high rates of crime, unemployment, drug use, school dropout rates, juvenile delinquency, etc.
low academic achievement and failure to attend institutions of higher learning.
The question is can preschool education overcome the disadvantages to families and their children who are in this socio-economic group?
The HighScope Perry Preschool Study
(http://evidencebasedprograms.org/1366-2/65-2)divided 128 children, age 3 – 5 into two equal groups, one a control and the other group attended a preschool with highly qualified teachers and low student/teacher ratios. The study conducted in 1962 – 1967 with a follow up of the participants at age 27 and again at age 40. The web link above is a summary of the study that also contains another link to the complete study report. The following table taken from the study report and is representative of conducted preschool education studies.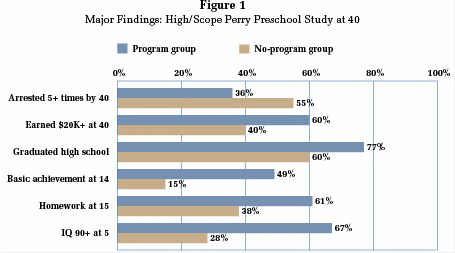 The Carolina Abecedarian Project
(http://steinhardt.nyu.edu/scmsAdmin/media/users/eez206/srb_conference/The_Carolina_Abecedarian_Project_-_F__Campbell.pdf) and (http://projects.fpg.unc.edu/~abc/#summary_follow_up) was conducted from 1972 to 1977 and differs from the Perry Study in that the subjects chosen were placed in preschools at infancy. The average age of the population was only 4.4 months old with some admitted into the program at age 6 weeks. Follow up studies were conducted at ages 12, 15, 21 and 30. Once again children outperformed the children in the control group academically and socially. This study deduced that the higher academic achievement levels obtained were the result of early language development. It was estimated that for every dollar spent on quality preschool education the return was $2.63, based on less dollars spent for incarceration and social welfare costs.
In another study it found that the mothers of preschool children improved themselves academically and socially compared to mothers in the control group. Apparently not only does learning and behavioral modification go from adult down but also child up.
One of the key words throughout the studies is the key word phrase 'quality programs'. A quality program has a student to teacher ratio of approximately 6/1 and operated by trained and dedicated personnel in an environment that provides safety, stimulation and positive reinforcement.
An updated review of numerous other studies and a discussion of the cost of preschool education can be found on the following website: http://journalistsresource.org/studies/society/education/preschool-head-start-early-education-policies-research-review
The implication for Resource Centers International is that when we donate resources to a school/community we are not only giving them educational materials but helping them develop better citizens and stronger communities.