News from Jamaica
This is a dream come through, for years we have prayed for York Hill ECI to be blessed with computers. Thanks to you for taking up this challenge to give computers, especially to the early childhood institutions. The staff of this institution expresses our gratitude for the gift of five computers, tables, chairs and other goodies. We promise to use them to enhance and motivate the students in the school and those in the wider community. Keep up the good work, God bless you.
Staff members: Rosetta Drummond, Joan Beadle, Feonia Bentley and Pauline Bennett
The Sterling ECI would like to express their profound gratitude to the Rotary International community for the valuable gifts donated to us. These gifts will be of great assistance to the school. We will be able to expand and build on our students' development with these resources, in such a way that they will enjoy. The courtesies extended are highly appreciated and well look forward to your continued support.
Yours Truly,
Angela Williams-Dookie -(Principal)
News from Belize
Good day Mr. Mel,
I am happy hearing from you again. Well feel free to contact me when you come back to Belize in December. I will to assist you Mr. Mel. Right now the resource center is closed but as soon school opens, it will be in used again and the school children will have good use of it. Once more I am happy with the resource center you granted to our school.
Roberto Bobadillo – Village Chairman (Trinidad)
Making the Most of Each RCI Computer Donation
When RCI gets donated computers we go through a process that insures that each one sent is in working order at its final destination. We wipe the hard drive and then load it with business software and music. We check out each computer before it leaves our warehouse and at its final destination. For the past several months we have been trying to obtain free educational software to load onto each computer to better serve the communities we are supporting.
Can you help?
We need an individual, or a group to write a learning software package for children from age 2 to 8. This could be a great project for a class or an individual looking for a Masters project in early education. We will load all of our computers with the software the donated computers can be used to greatest advantage. Please contact Mel Honig; gailmel75@yahoo.com if interested in this project.
Donations
| Item | Donor | Expeditor | Rotary Club |
| --- | --- | --- | --- |
| Wood for shelving | University of Toledo | Terri Miller/David Best | Sylvania |
| Computers | SSOE | Glen Blohm/Andrew Timothy | Sylvania |
| Computer & Printer | Jim Hunt | Jim Hunt | Elyria Noon |
| Tables & Chairs | Lourdes University | Rachel Kerlin/David Best | Sylvania |
| Books | Bucyrus Friends of Library | Alan Basinger | Bucyrus |
| Television | Jerry Peacock | Jerry Peacock | Waterville |
| Books | Toledo Friends of Library | Marcy Levy/Mel Honig | Sylvania |
| Computers | Jeff Normand | Chris Vogel | Perrysburg |
Funding Donations
Donor
Amount
Rotary Club of Archbold
$200.00
Oak Harbor
350.00
Bellevue
350.00
Perrysburg
1000.00
Sylvania
500.00
Private Individuals
Juarez Family
$500.00
Purchases
| Item | Vendor | Amount |
| --- | --- | --- |
| Books | Friends of the Library | $140.00 |
Presentations
Presidents' Councils
Metropolitan Toledo
Area 5 & 6
Rotary Clubs of
Bucyrus
Reynolds Corners
Oak Harbor
Sylvania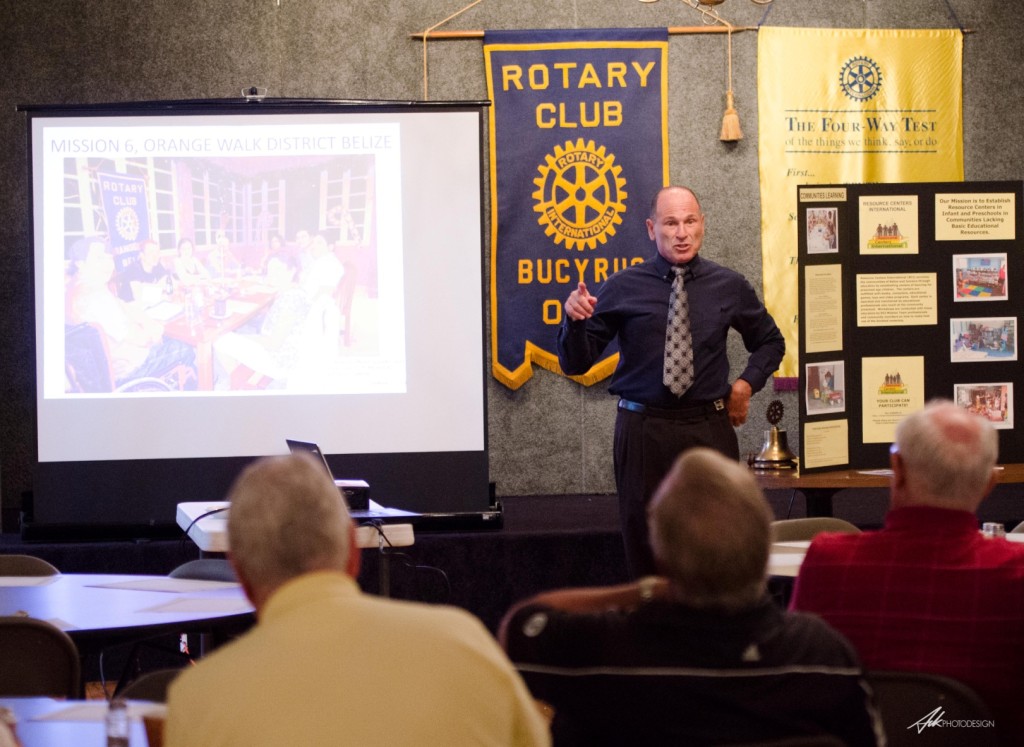 Mel Honig, Project Coordinator, gave a presentation at the Rotary Club of Bucyrus in early August. Trying to get as many Rotarians involved as possible presentations are not only given to Rotary Clubs, but also Interact Clubs and Presidents Councils. On the screen is shown a picture of our team and Orange Walk Rotarians during our last mission to Belize in December 2012. For our next mission we will return to Orange Walk to continue the work we started last year.

The Year Ahead
Originally it was planned to have two missions in fiscal year 2013-2014; one in December (Belize) and a second in March (Jamaica). This has been scaled back to one in March because we cannot get enough computers or children's books to fulfill the goals of each mission. Thus the December mission has been moved to March, with RCI planning to do two missions to Jamaica in fiscal year 2014-2015; one in September 2014 and a second during winter 2015.
Our need for computers and books is never ending and significant. To help meet the need for books we will be contacting the Interact Clubs of District 6600 and asking them to conduct drives to obtain educational books, games, toys, VHS tapes and sporting equipment. The Interact Clubs of Brookside (Avon/Avon Lake) Northview and Southview (Sylvania) and Edison High Schools (Milan) have conducted drives in the past and these have been most helpful in having educational materials sent to the schools and communities of Belize and Jamaica.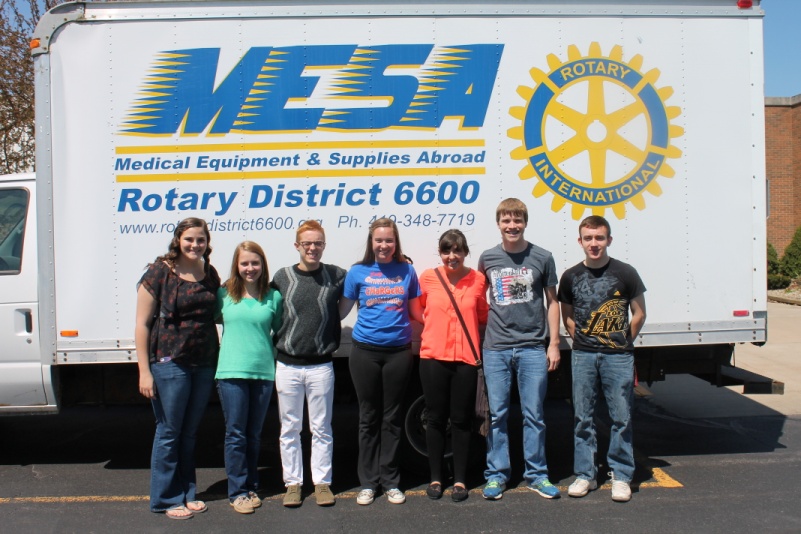 Computers continue to be a commodity that we need. If you know of a source where we can obtain computers we will gladly pick them up. There is also a great need to develop an
Educational software package, something that is extremely expensive to purchase. We have been looking for an individual, or institution willing to develop a basic educational software package(s) for preschoolers up to grade 3.
We need the continued help of District Rotarians to help fill these important needs. If you know of the possibility of available computers or know someone who can help develop a software package please contact the RCI Project Coordinator, Mel Honig: gailmel75@yahoo.com or phone 419.843.4459.
Our budget, along with additional information about the work of RCI can be found at our website:
http://resourcecentersinternational.org/.
This year's budget represents one mission and partial costs related to the two missions we are planning for Jamaica in fiscal year 2014-2015.
Budget: 2013-2014
Expenses*
Shipping
$7,000.00
Transportation in Belize
1,000.00
Books and VHS Tapes
600.00
Flooring
800.00
Tables & misc furniture
300.00
Televisions & VHS machines
100.00
Games and toys
200.00
Upgrading centers
500.00
Computers
2,000.00
Program maintenance (Supplies/gasoline for MESA Truck)
600.00
Expense Total
$13,100.00*
Funding Sources
District 6600 Rotary Clubs
$7,000.00
District Grant
4,000.00
Private Donations
2,000.00
MESA (Shipping Donation)
1,000.00
Funding Total
$14,000.00**
*Includes costs for Jamaica missions