News from Jamaica
The following email expresses the sentiments and words passed onto me by the Principals of all the schools and centers we supported.
Dear Mel,
We the staff of Sterling ECI want to take this opportunity to say a BIG THANK YOU for your timely and well needed donation of six computers.
We assure you that we will use them to enhance the learning process of the children here and we are sure that they will make learning enjoyable.
May God continue to richly enhance you and the staff of Resource Centers International as we look forward to your continued support.
Sincerely yours
Verol McNeil
C/o Sterling ECI
Please read Suzanne Saunders' Report at the end of the Mission story on the condition of preschool education in Jamaica.
Donations of Equipment and Supplies
| Item | Donor | Facilitator |
| --- | --- | --- |
| Computers | Electronic Concepts & Engineering | Bill Hoyt |
| Shelving, Tables, TVs, VCRs, Video Carts, Overhead Projectors,Chairs | University of Toledo | Terri Miller |
Monetary Donations & Grants
| | |
| --- | --- |
| District Governor Robert Vincent | Rotary Club of Bowling Green |
| Heinrich Family Foundation | Rotary Club of St Marys* |
| District Simplified GrantDistrict 6600 | $3000.00 |
*This is the third year in a row that the Heinrich Family Foundation has generously donated funds in support of the RCI mission.
Purchases
| Item | Vendor | Cost |
| --- | --- | --- |
| Tables, TVs, VCRs, Shelving | Hopewell School | At Auction – $135.00 |
MISSION 1, JAMAICA
In Pictures
This past week Resource Center International completed its first mission to Jamaica. The original plan was to provide educational equipment to 15 schools, but by the time the mission concluded we supported 20 schools, one community center, a Women's Center with plans to support a Resource Center. Please follow the photo gallery below as the story of Mission 1 unfolds.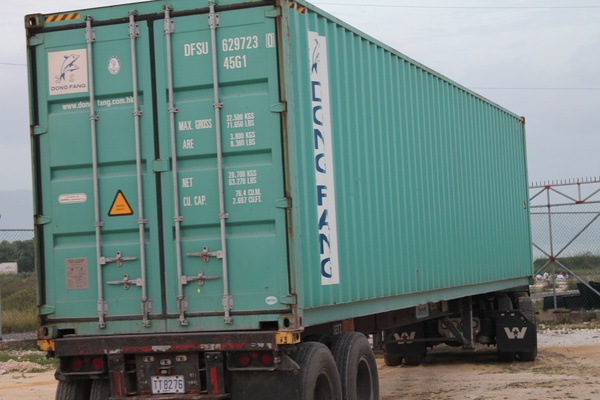 The container arrives….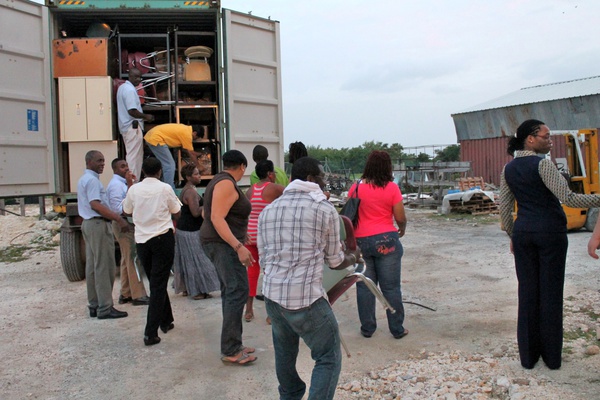 The Rotary Club of Savanna-La-Mar weekly meeting coincided with the night the container arrived. Everyone pitched in to help unload the items that were not palletized. Once the loose articles were unloaded we used a fork lift to get out the remainder of the load. Everything arrived without any damage. Now… how many clubs would have a container unloading as their Rotary meeting??? Magnificent support from the 'Sav Club'!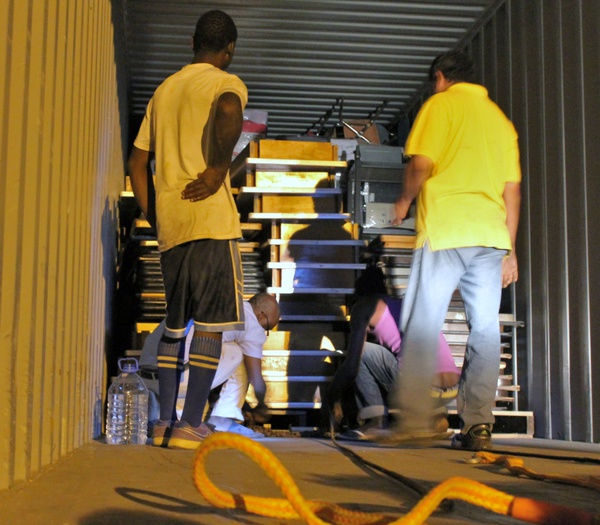 Working into the night to get the job done: Everything was stored at RAD Industries, owned by President Elect Robbie Robinson. Robbie and President Dionne Meyler- Reid also opened their houses to the mission team when appropriate accommodations could not be found.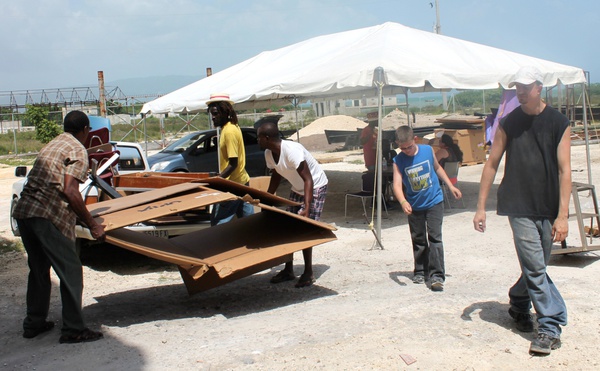 All the schools were called the night the container was unloaded and the following morning (amid much chaos) 20 of the 23 sites picked up their allocation of computers, books, tables, chairs, games and toys.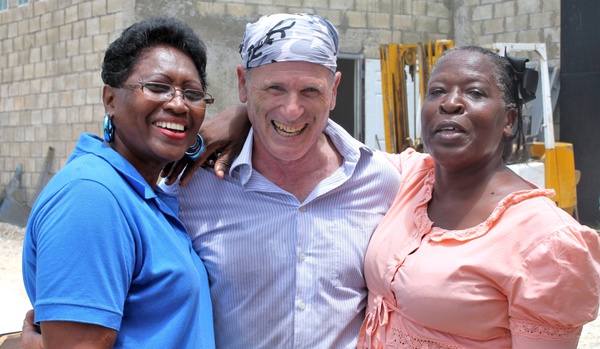 From the left is Hilda Hibbert, first year Rotarian and Project Coordinator for the Rotary Club of Savanna-La-Mar; Mel Honig, Project Coordinator for District 6600 and Shenee Swaby, Owner of the Elite Prep School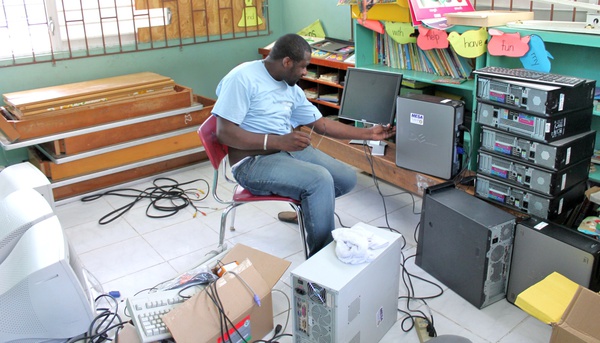 Computer expert Elvis Shuneh, Owens Community College student, brings computers to life at the Savanna-La-Mar Infant school.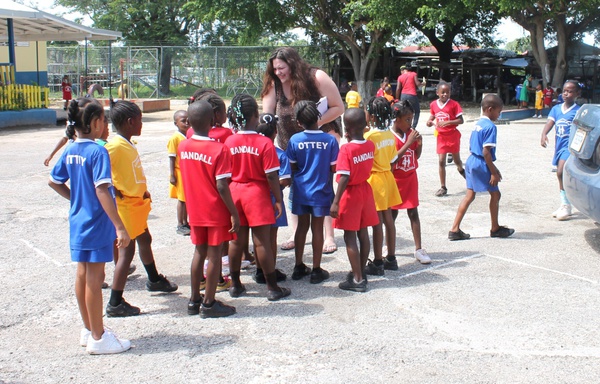 Suzanne Saunders, our Preschool Education expert was the Pied Piper of our team. Ms Saunders is earning her second Masters Degree; this one in early childhood education at the Lourdes University.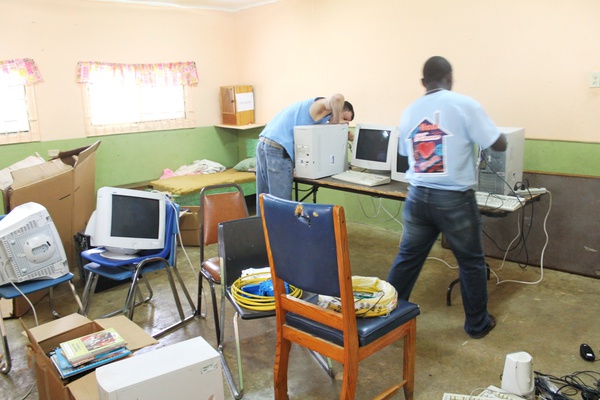 Dan, on left, is the second computer expert on the team and a recent graduate of Owens Community College. Of the 100 computers sent down 98 of them were in working order. Usually the failure rate is 10% and because we had more computers than we thought we were able to help more schools and sites than originally planned.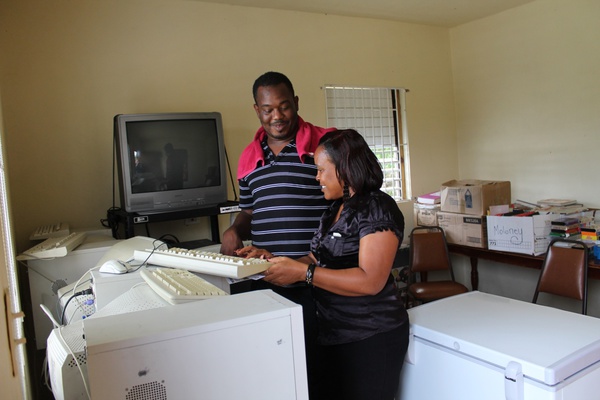 After our Mission computer engineers went home we still had several more sites to complete and Shenee Swaby lent us her son, Robert (a computer expert) to complete the job. Here he is working at one of the seven Women's Centers in Jamaica where young mothers can continue their education while their infants are cared for at the facility.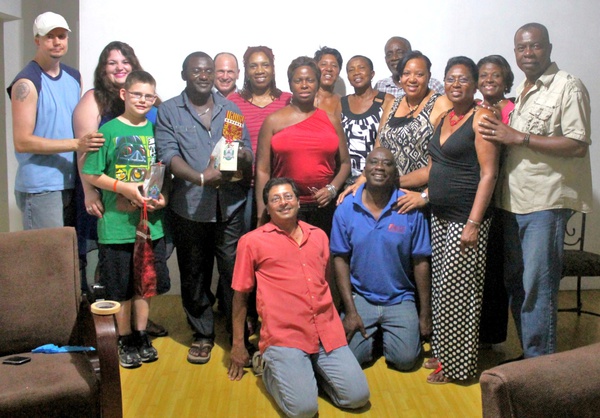 Rotary group picture taken during a going away party for our computer experts at the home of Robbie Robinson…. Dan brought his son Andre along (3rd from left) to share in the learning experience.
The Rotary Club of Savanna-La-Mar normally meets on Tuesday evening at the Commingle Hotel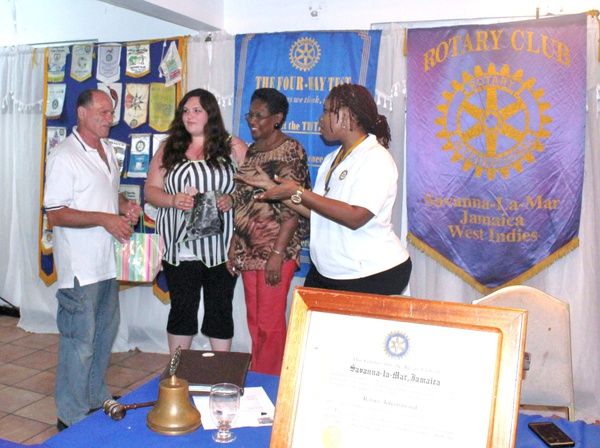 Exchanging gifts before the return of the lastl two members of the RCI Mission Team
Schools and Centers Supported
SCHOOL
PRINCIPAL
# STUDENTS
2-5 YEARS OLD
FARQUHARSON ECI*
VALERIE LAWRENCE
64
BROUGHTON INFANT**
MARVA DAVIS-CLARKE
40
LITTLE LONDON METHODIST
BARBARA MEYLER
77
YORK HILL ECI
ROSETTA DRUMMOD
62
GORDON'S ECI
KEISHA GORDON
84
FROME PREPARATORY***
NICHOLAS WATSON
20
STERLING ECI
ANGELLA WILLIAMS DOOKIE
160
CAMP SAVANNAH ECI
STEDFORD BENNETT
206
ELITE PREPARATORY
SHENEE SWABY
40
KEW PARK INFANT
ROSEMARIE DOLLY
30
GALLOWAY ECI
NORMA FENTON
127
WATER WORKS ECI
EILEEN PENNYCOOKE
40
PETERSFIELD INFANT
SUSAN HAMMOND
170
BASTARD****CEDAR WALK ECI
UNA VANRIEL
60
TORRINGTON ECI
PAULETTE BRAITHWAITE
160
PARADISE PREPARATORY
EULINE STREET
100
SAVANNA-LA-MAR INFANT
PAULETTE COOTE
400+
LOVING CARE CHRISTIAN ACADEMY
KEMAR CHREISTIE
200+
CARING HEARTS ECI
CHRISTINE HASTINGS
53
NEW HORIZON PREPARATORY
VENET DIXON
120
20 SCHOOLS AND OVER 2200 STUDENTS SERVED
CENTERS
WOMEN'S CENTER
PAULETTE HERON
VARIES
WESTMORELAND CENTER
A MCINTOSH
VARIES
SAVANNA-LA-MAR CENTER*****
VARIES
*ECI: Early Childhood Institute… a stand-alone school for children 3 to 5
**INFANT: Infant schools are located with Primary Schools
***PREPARATORY: These schools charge tuition and may be ECI or Primary
****BASTARD IS A TREE FOUND IN JAMAICA
*****There were some books, computers, games, toys, and tables still available after everything was distributed. The Rotary Club of Savanna-La-Mar is planning to support the local resource center, but a final decision on how has not yet been made.
Education in Jamaica
By Suzanne Saunders*
A tattered composition notebook dangles for a young child's hand as the teacher instructs the children to line up for morning devotion. The children file in one after another in their clean pressed uniforms. As I look around this seemingly "shack" of a classroom, I breathe in the scent of the wood tables and floors and notice the almost bare walls, short of a few handmade posters. I watch in astonishment as the children respectfully address their teacher with, "Yes, Miss Swaby" as they single-file walk out of the open-door classroom to their meeting space in the front yard.
Preschoolers learn in traditional style classrooms. Student/teacher ratios vary from school to school.
This place looks nothing like the schools I am familiar with. There isn't a big gymnasium or cafeteria for the students to hang out in. In fact, most of the classrooms are exposed to the elements with open windows and doors to let the breeze flow in and out. I can't imagine students can learn in a crowded, loud, almost resource-less classroom. I've never seen so many classrooms confined to one building, being separated by only a few chalk boards to act as partitions. It seems near impossible to imagine any form of learning can take place in an environment like this.
I begin to pity these poor children and teachers for their lack of resources and assume that their students must not be proficient in their studies or compare to the academic levels of American children. Suddenly, a tall, lean sixth grader walks out holding a slip of white paper, a smile beaming from one side of his face to the other. "Miss Swaby, look!" he says as he hands her the paper. "Good job!!" she says as she reads the print before her. Upon questioning I find out that this student has received a perfect score on his GSAT tests for Language Arts, Science, and Math and was one point shy of perfect on his Social Studies test. I, then again in my ignorant mind, decide that the test he must have taken cannot possibly be at the level in which our American students are testing at. I asked for a sample of the test to compare my already "known" information. To my surprise, the test is more involved than what our students are exposed to. There are a hundred questions per section to be completed, all at a higher grade level than the student is currently at. I ask why much of the test is at a higher grade level than what the students are at. A teacher, fluent in answering this question, responds with,
"Our belief is that not only do we want our students to be performing at grade level, but we also want them to raise the bar higher for themselves. We want them to take ownership over their education and realize that every conscious decision they make in regards to their education can affect them for their entire lifetime. You see, every child here who has taken the GSAT took the test in hopes to score high enough to get into the high school of their choice. It's a rewarding and also humbling experience because the children learn what it means to work hard for something and reap the benefits or not put the effort into something and see the outcome as well."
At this point, I realize, I need to really begin to look at the learning that is taking place and understand that it doesn't take fancy materials for teachers, who are passionate about teaching, to make learning occur.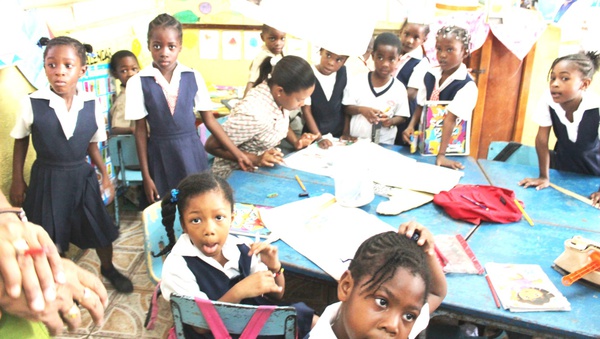 Pencil, paper and a dedicated teacher are all that is needed for students to excel.
The most interesting revelation I had during my trip to Jamaica was to finally understand that it does not take the use of hundreds of materials for learning to take place. The teachers of Jamaica have a passion for learning and are able to have their students achieve greatness by simply taking time to work individually with them. I know that as a teacher myself, I always say, "oh, I don't have time to do that or I don't want to teach to the test." It is incredible to see that I have been kidding myself all along. I thought I needed the next best thing or latest gadget to teach my students. The reality of it is that I just needed my brain and the understanding that fundamentals and memory learning can be the building blocks to academic success. The children were more than excited to see new faces in their school and were more than grateful for their computers and resources, many of which, we would consider "old or tarnished." Seeing how few resources the teachers and students have has made me more determined to collect and send more supplies to them. It is incredible to think of what they could do with the resources we take for granted.
I also learned that success truly can stem from a dedicated and enriching educational background. Whether, the student wants to be a doctor or a coffee farmer, the regimented schedule and problem solving skills students are exposed while in school, set them up for success in their adult lives. The children of Jamaica, I'm sure, don't always want to wake up bright and early in the morning to go to school. However, they know that school is their "way out" and their chance to make a difference and find upward mobility. It was amazing to see how much the teachers do with how little they have. Students who are in grade 1 were performing learning tasks that we would consider appropriate for third graders. Knowing that teachers can make learning happen with very little resources has once again, fueled my fire for education and encouraged me to realize that it doesn't always take a fancy cruise-liner to make it across the ocean, sometimes a sailboat can make it, if the wind fills up its sails and the water guides it to its destination. Someone once told me that everyone has a little magic in them; it just sometimes takes an enriching experience to find it. Well, truth be told, I found my magic…in the back of a muggy, loud, worn-down classroom, in the heart of Jamaica.
*Suzanne Saunders came on this Mission to experience the education received by children attending preschool in Jamaica where preschool is universal, free and over 60% of the children attend prior to entering Primary School.