Final Report, Mission 9 to Belize
Even though the mission team left Belize late March, 2016 and the Final Report for the project has been submitted and approved by the District 6600 Grant Committee; the work of insuring the sustainability and proper use of resources sent to Belize continues. The Rotary Club of Punta Gorda has developed a worksheet designed to evaluate the overall project and also to determine if the preschools are taking advantage of the educational materials donated for their use. The worksheets are presented to the schools when the Punta Gorda team makes on site visits to the preschools.
Some of the comments from the first three preschool visit worksheets are summarized below:
Concerning computer use:
While some schools are integrating the computers into their classroom programs, most of the schools are having issues.  The main problem is difficulty of use and also the level of the programs.  It must be remembered that most of the children come to preschool with little or no English language skills.  Not surprising that they are having some difficulties but with time, perseverance and some outside help we feel that these initial problems will be overcome.
Concerning books, games, toys, TVs, etc.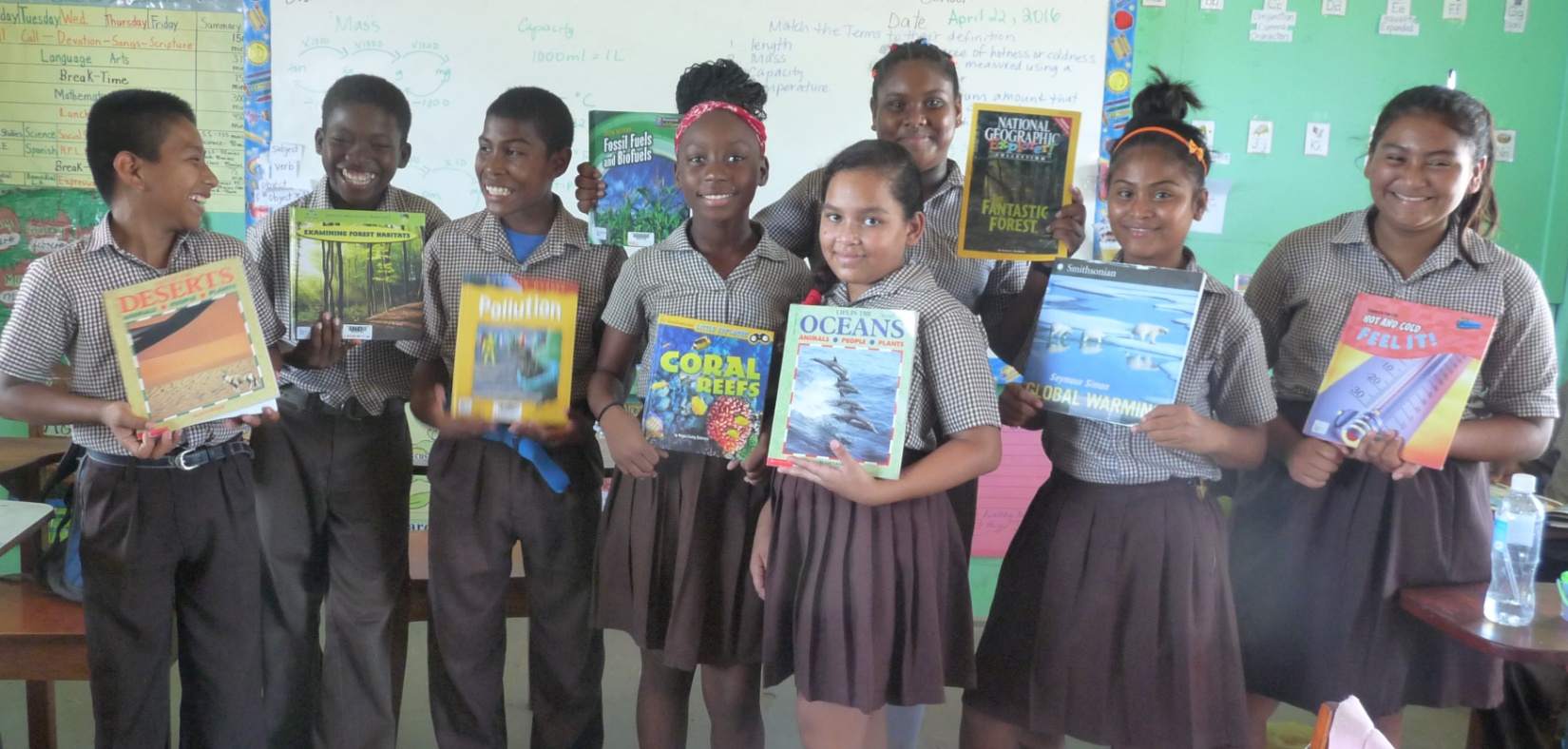 Many of the books we send down were too advanced for preschool or children in the process of acquiring English skills.  Part of the plan is to send books in varying degrees of difficulty.  There is a great need for books at all levels.  On average what we sent to each school was 2 boxes of children's books, 1 box of resource books (as those pictured above) and one box of intermediate readers.  Another pallet of early childhood pamphlets donated by Books-4-Buddies and the Perrysburg School system was given to the Toledo District Ministry of Education (MOE) to be distributed as they see fit.
The feedback from the school evaluation sheets clearly indicate that the mission team needs to spend more time at each school going over the reasons why we send certain materials and how they can best be used.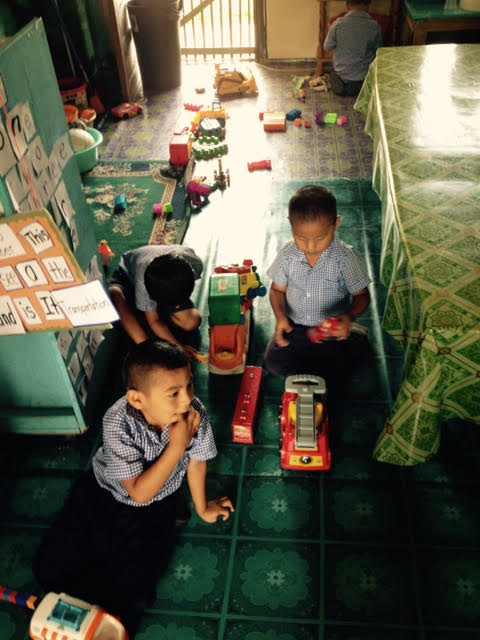 Toys are always a success. Some of the games and toys we sent were too advanced for young children so they were passed onto upper levels classes. In the future we will send toys, especially blocks (a big favorite) and art supplies, that are more young child friendly.
Another important lesson that we got from the feedback is that we need to be more careful when distributing product to the schools. We try to make sure each school gets the proper amount on educational equipment during distribution but time and space constraints can make this difficult.
As far as teachers being worried about the difficulty of many of the educational tools: Preschool is a two or three year program and the educational tools (especially computer software programs and children's books) that are difficult or even impossible now for students will be age appropriate in the second year of preschool. We will continue to send both advanced readers and resource books because of the lack of books in the schools. Some items, especially the overhead projectors were not seem as an asset and we will probably not send them (the overheads) in the future.
The more missions RCI conducts and feedback we get helps us to improve each successive mission.
Future missions to Belize
The Rotary Club of Elyria, acting as International club, will be applying for a Global Grant to sponsor several missions to Belize over the next few years.  The Rotary Club of Punta Gorda will be the host club.   Hopefully we will get approval of the grant in time to sponsor a fall 2016 mission to the Toledo and Stann Creek Districts of Belize.
Mission 1 to Mexico
The Rotary Club of Sylvania has agreed to sponsor the first mission to the municipality of Puruandiro, Michoacán, Mexico. The mission will partner with the Rotary Club of Toledo and the Rotary Club of Puruandiro Purepecho to open 16 Resource Centers in preschools in the municipality. The U.S. budget for the mission is $12,180 and will funded by the Rotary Clubs of Sylvania, Toledo, Mesa and a District Grant that has been applied for. The Rotary Club of Puruandiro Purepecho will be responsible for expenses in getting the container from the Port of Entry to Puruandiro and then storing the product until a mission team arrives late November, 2016.
It has taken over one year to accomplish the above yet there is still more to do. Each preschool must fill out an online application. We use the application to determine how the items we send down will be distributed. The application also commits the preschool personnel to maintaining and integrating what is sent into their educational program. Another hurdle to cross is obtaining a District Grant to help fund the mission.
RCI is currently forming the Mission Team. Needed are people interested in the process of opening resource centers. We will have translators with us as some of the team members have already been chosen who are bilingual. The only 'skilled' people we need are computer technicians but any interested Rotarian is invited to go along on the mission. The mission dates are November 18 – 27.
Donations during the first quarter of 2016
Educational Equipment and Materials
VHS TapesVHS TapesToys and GamesTelevision SetsComputersComputersTelevision, ComputersTVs, VCRs, Video cartsGames & ToysComputersGames/Toys/VHS tapes/BooksTVs/Computer/Computer Accessories/PrintersComputersBooks, games, TVPallet of Educational BooksSports Equipment
| Item | Donor | Expeditor | Rotary Club of |
| --- | --- | --- | --- |
| VHS Tapes | Alicia Yoxthimer | Alicia Yoxthimer | Sylvania |
| VHS Tapes | Russ Wood | Alicia Yoxthimer | Sylvania |
| Toys and Games | Gail Odneal | Mel Honig | Sylvania |
| Television Sets | Mike & Tanya Sherman | Natalya Romanova/ M Honig | Sylvania |
| Computers | Flower Hospital | Raj Kanwal | Sylvania |
| Computers | Dick Binau | Angelica Rinehart | Fremont |
| Television, Computers | Jo Ann Pontius | Andrew Timothy | Sylvania |
| TVs, VCRs, Video carts | Owens Community College | Andrew Timothy | Sylvania |
| Games & Toys | Carla Gonyer/Mercy College | Gail Odneal/Mel Honig | Sylvania |
| Computers | Eiler Networking | Kent Iler | Elyria |
| Games/Toys/VHS tapes/Books | Rotary Club of Elyria | Amber Fisher | Elyria |
| TVs/Computer/Computer Accessories/Printers | Rotary Club of Perrysburg | Chris Vogel | Perrysburg |
| Computers | Jim Heinrich | Bob Ruehl | St Mary's/Lima |
| Books, games, TV | Hope Lutheran Church | Karen Baker-Zepf | West Toledo |
| Pallet of Educational Books | Perrysburg School | Chris Vogel | Perrysburg |
| Sports Equipment | Gary Davis | Gary Davis | N. Baltimore |
Monetary
| Donor | Amount |
| --- | --- |
| Rotary Club of Toledo | $5000.00* |
| Rotary Club of Sylvania | 1000.00* |
| Heinrich Foundation | 1000.00 |
*Designated Funds for the Mission to Mexico
Your donation can be here next month. Our next mission to Belize this coming March is fully funded. We now need to seek funding for our mission.
Presentations
Presidents' Council
Two Toledos Spanish High School Honors Recognition
Rotary Club of Elyria