Interact Club of Northview High School Conducts Book Drive
Email from Esther Kim, Chair, International Committee, Interact Club of Northview High School conducts book drive for RCI.
Feb 13 at 11:29 AM

Hello!

I hope email finds you warm and comfortable in this cold weather!

My name is Esther Kim, a senior at Northview High School. I am a chairperson of the International Committee of the Northview Interact Club and am emailing you to inform you with updates regarding the book drive for Belize.

With all the snow days, along came many cancelations of our committee meetings; but, on Tuesday, we were able to gather and discuss our upcoming project, the book drive!!

Consistent with last year's title, we have decided to once again call it "Spread the Love," going along with Valentine's Day season theme. This drive will be
continuous for two weeks, starting on the 24th of February (Monday) and ending on the 7th of March (Friday).

Our committee members have come forth and volunteered their time in making poster and flyer designs, in order to spread the word as much as possible.

In order to effectively carry this out, we have decided to place boxes in each English classroom for each period, which means we will need a total of 42 boxes. This is one thing we are unsure of–whether we would have enough number of boxes. As of today, I have counted a total of 30 boxes and there sure will be more to come. However, I was wondering if there is a specific type of box we need for this drive. Also, if you do happen to have any boxes to contribute to our drive, would you please lend us a hand?

I have decided to call another meeting with the committee, but not until the end of the drive. There will be, however, unofficial "meetings" during which we will hang posters and flyers around the school.

Thank you so much for your time and support!!
Have a great day,

Esther Kim
Belize Mission Updates
The Belize Mission Team has added another member. Brenton Gongorra, a teacher at Pomona Primary School (Stann Creek District), will be working with us on our mission in Orange Walk District. We met Brenton during Mission 5 when we were working in Stann Creek District. Brenton is passionate about improving educational opportunities for the youth of Belize and we are hopeful that he will help us on future missions to the southeast Districts of Belize.
The Belize container is on its way
After several cancellations due to the weather RCI finally got the container loaded with the help of Tim Ryan Jr., Gary Davis and Mel Honig.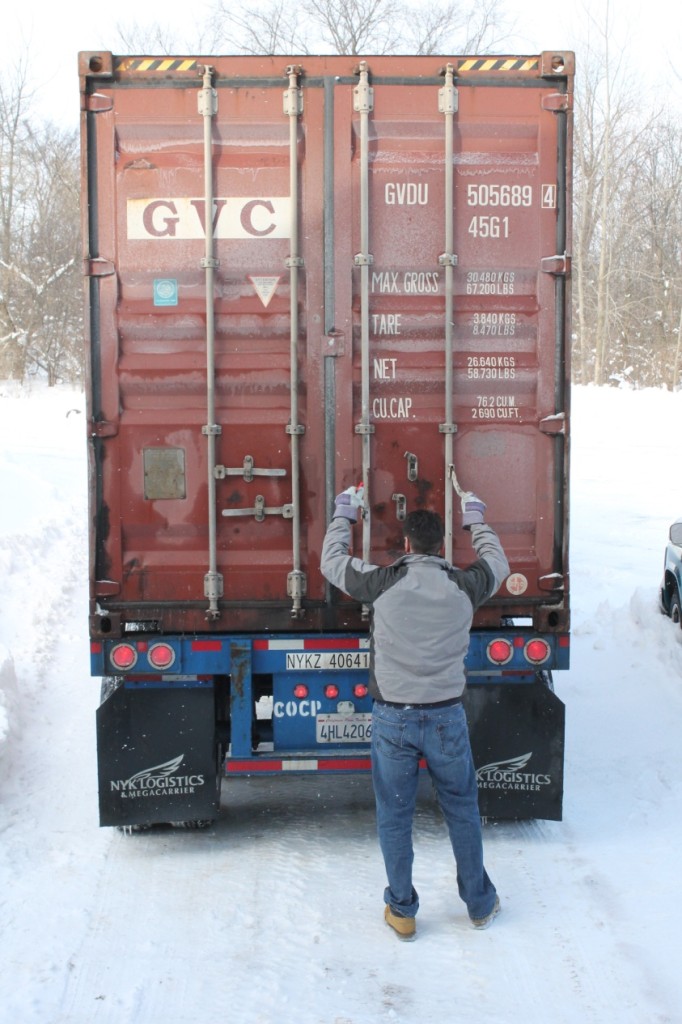 Our driver (from Belarus) closes and seals the doors. Yes, it snowed the day we loaded, but time was running out and we had a boat to catch. We were very appreciative of the trucking company that made a special effort on our behalf and once again to our broker, BKA, that did an outstanding job.
Donations and Expenditures
Educational Equipment and Materials
| Item | Donor | Expeditor | Rotary Club of |
| --- | --- | --- | --- |
| Books/VHS Tapes | St. Wendelin HS | Lindsey Weaver* | Fostoria |
| Shelving | Stevens Shipping | David Best | Sylvania |
*Lindsey Weaver is a St Wendelin Senior who is planning to go to Case Western next year studying pre-medicine. She attended a Rotary Club of Fostoria meeting when Mel Honig was the presenter. St Wendelin does not have an Interact Club, so Lindsey took it upon herself to collect a box full of video tapes and about 30 world maps.
Financial
Donor
Amount
Your Club's contribution could be here next month!
Purchases for Belize Mission
| Item | Supplier | Cost |
| --- | --- | --- |
| Computer Tool Kit | Amazon | $41.53 |
Presentations
Rotary Club of Ottawa Glandorf
Rotary Club of Bellevue
We have a continual need for computer systems and children's books. The only thing that is keeping us from doing more is obtaining enough of these two items.
Mel Honig, Newsletter Editor