News for October 2012
News from Belize
Email from Roberta Choc, Resource Center Board Member, Silver Creek
Dear Mr. Mel,
It was great to hear from you again, especially that you're making a trip back our lovely country. I must say that the computers that your team had donated were being utilized to the fullest. The telecommunication company has being providing free internet to the school and the community. The construction of our computer lab is about to commence. Additional computer equipment would be very helpful.
We would appreciate any educational supplies. See you soon.
Respectfully yours
---
Excerpts from email received on July 12, 2012: Nuevo San Juan is a small village whose only sources of income are subsistence farming and sugar cane harvesting when the crop comes in.
Dear Mel,
..."Last night I was at Nuevo San Juan for the wake of the president of the committee. He died in a traffic accident. This is very sad, because he was the driving force of the committee. The village is a very traditional one and people there are not very proactive. He united the youths, students, and went from door to door seeking donations. He also organized a bar-b-q sale of which I understand generated $600. This was a very hard hit for the rest of the committee whom I found very low and wondering what will happen. This man, Mike Rudon, was a very energetic individual who was in the military in the US and came three years ago to enhance his community. In Los Angeles he was engaged as mentor for children at one of the foster homes. He even won a ticket for the Oscar presentations and had the opportunity to walk the red carpet.
The people from the community were very touched by him. I hope I will be able to pick up the community again.
Take Care."
Eleanor Carillo, Preschool Educations Officer, Orange Walk District
Excerpts from update of previous email (received on September 12, 2012)
Hi Mel,
..."I was at Nuevo San Juan yesterday where plans are really large for the resource center. The meeting was about the finishing touches for the small building which will now have an addition and AC. The center will be named the Mike Rudon Resource Center."
Regards,
Eleanor Carillo, Preschool Educations Officer, Orange Walk District
Donations
| | | |
| --- | --- | --- |
| Item | Donator | Expeditor |
| 44 Computers | Owens Community College | Andrew Timothy |
| Box of Books | Rotary Club of Vermillion | Sue Hunt |
| Truckload of Books | Rotary Club of Toledo/Books for Buddies/Toledo Blade | John Fedderke |
| Box of Books | Rotary Club of Ottawa Glandorf | Jane Heringhaus |
| Books and Crafts | Rotary Club of Oberlin | Judy Riggle |
| 100+ Computers | Rotary Club of Bellevue | Mark Bishop |
| 136 Children's Chairs | Rotary Club of Bellevue | Mark Bishop |
| Video Projector | Rotary Club of Bellevue | Mark Bishop |
| Games & Toys | St Matthew's in the Hills | Dariel Jacobs |
| | Episcopal Church | |
| Monetary Grant | Foundation of the Rotary Club of Maumee | Greg Fish & Joe Ludwig |
COLLECTING/STAGING/SHIPPING
Each year we conduct two missions to Belize, opening eight to ten Resource Centers. Each center is supplied with computers, school furniture and supplies, books, VHS tapes, games, toys and sports equipment. The challenge in getting everything to Belize is the high cost of shipping which has been between $6500 and $8800 per container. Initially this cost was subsidized by the Belize Natural Energy Trust (BNE Trust). The first two years we could send two containers partnering with the Word at Work and BNE Trust. When that subsidy was withdrawn (politics), we were burdened with the full cost of shipping. Resource Centers International (RCI) now has to be much more careful in what and how equipment and supplies are sent to Belize. Instead of two containers each year now we send only one.
Collection starts 12 or more months before the December mission. This process involves, Rotary, Interact and Rotaract Clubs; NGOs, schools (high schools and universities), businesses, garage sales and auctions. A few of the items are purchased at retail but the vast majority of the collected items are donated or purchased at 'charity' rates. Part of the collection process is obtaining funding. Funds in the past year have come from District Simplified Grants, Rotary Clubs, MESA, donations from individuals and other NGOs. A complete list of donations is in the Appendix.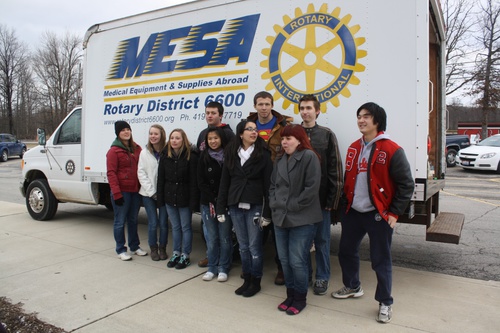 Northcoast Interact Club of the Rotary Club of Avon/Avon Lake conducted a school district-wide collection drive. End result was a MESA truck filled with toys, games and books that will be sent to Belize in the next container.
Staging is a constant process. Everything collected is stored at the MESA warehouse in Findlay. Before computers are sent to the warehouse, they are checked out by our computer expert Justin Kendall and then loaded with software. All tables are broken down, legs removed or folded so they take up minimum space in the container. Only stackable chairs are collected, once again a space saving move. Books and VHS tapes are carefully selected and then boxed and palletized. Even the air from all balls (mostly soccer and basketballs) is removed. Each community receives a large shipping cardboard box (commonly called a gaylord) of toys, games, and sports equipment.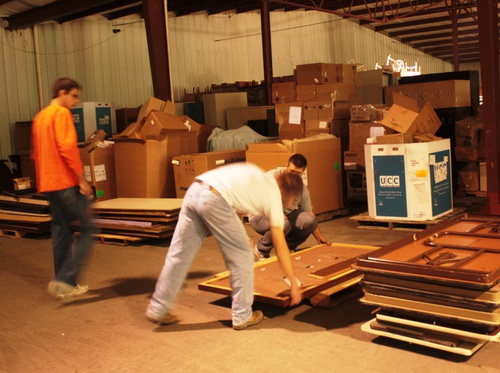 Findlay Rotaractors stacking tables on pallets prior to strapping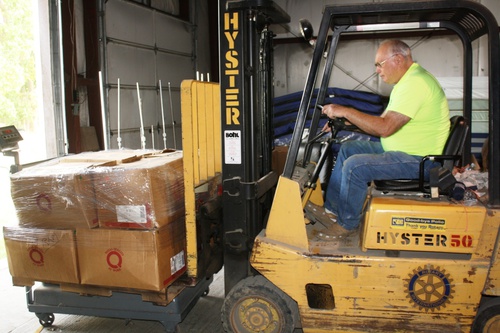 Gary Davis (North Baltimore Rotarian), MESA Director of Operations weighing a pallet of books. All pallets are weighed, numbered and a packing list generated of everything that is put in the container.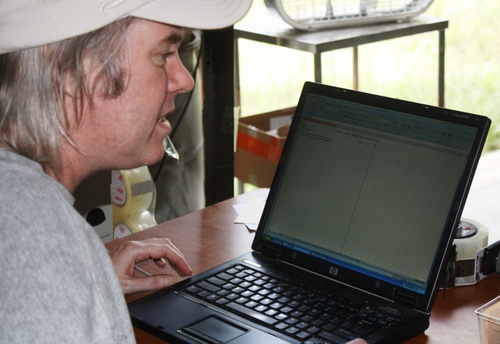 Bob Good, volunteer, prepares the packing list.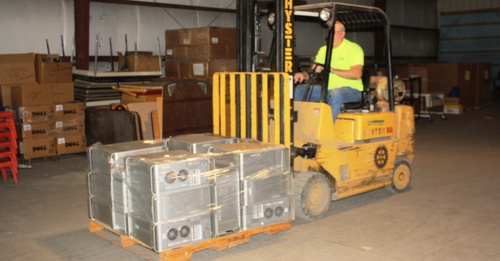 Behind Gary (moving a pallet of computer towers) are more pallets waiting to be weighed and labeled.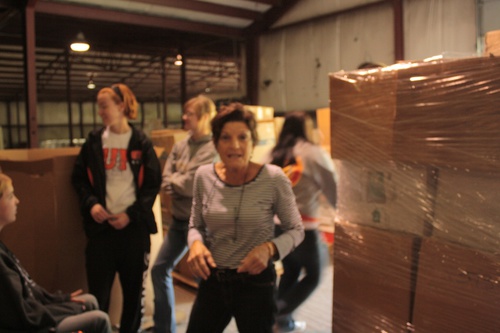 Jane Heringhaus (Ottawa/Glandorf Rotarian) helps out with staging. Jane is a member of this December's mission team.
Shipping is a process that involves many people. After everything is staged and inventoried the next part of the process is sending the Packing list to our Rotary counterparts in Belize who will be receiving the shipment. At their end they get the proper documentation to have everything imported with duty and general sales tax (GST) waived.
Gary Davis then contracts with a shipping firm to pick up everything at our Findlay warehouse for delivery to Belize.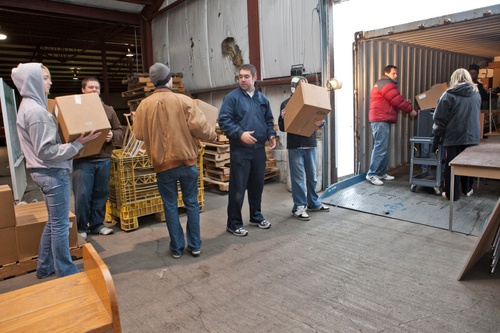 Loading container for Mission 1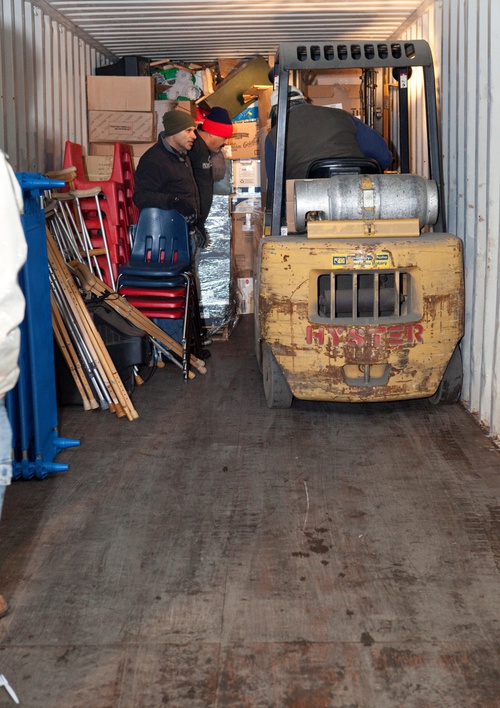 Everything gets packed in trying to utilize every square foot of space.
After arriving in Belize the container then needs to clear customs. Sometimes everything is unloaded and reloaded onto another truck and sent onto the final destination. At other times the container is loaded onto a truck as in the case below.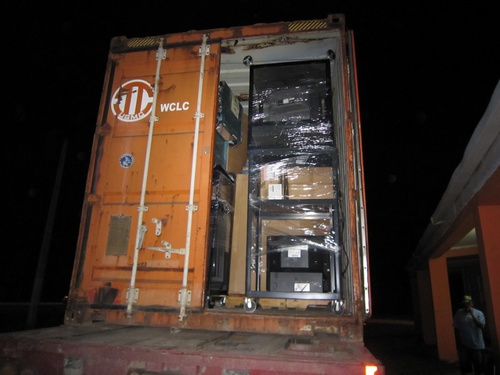 This container arrived in Calcutta, Belize (Mission 4) where everything was stored in the Community Center.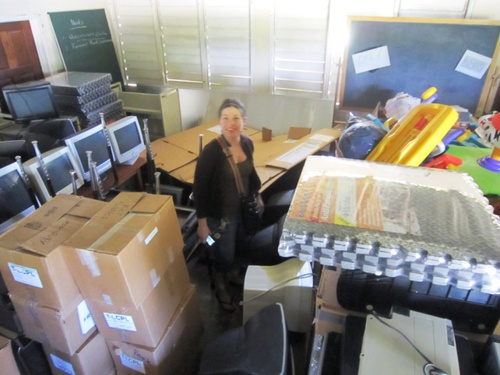 Susan Honig trapped in the Silver Creek Community Center where everything was unloaded during Mission 3.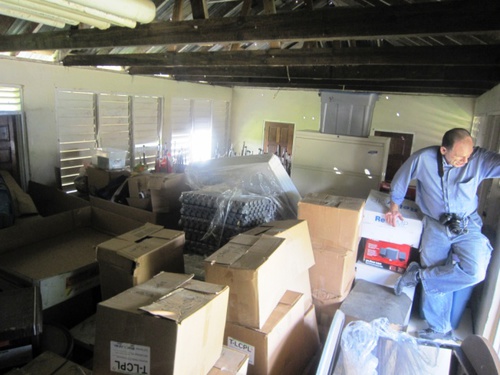 It was not easy sorting everything out in cramped conditions, but with the help of Justin, the three of us did it a half a day.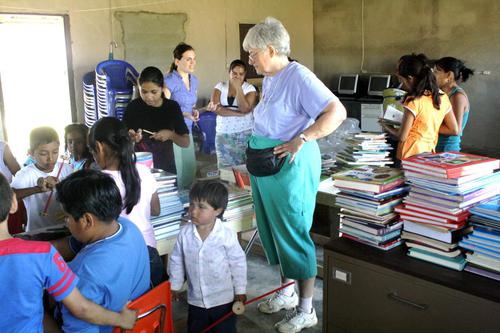 With everything sorted by community the first job during a mission is setting up. Billy White, Belize (Mission 2) Pictured is Judy Riggle, Oberlin Rotarian.
We in Rotary must always keep in mind that most of the work to make this project a success is accomplished in the communities where the centers are located. Without their hard work, enthusiasm, thirst for knowledge and dedication the project would not have the 'legs' to move forward.
-Mel Honig, Newsletter Editor
Appendix
Donations (June 2011 to Date)
Monetary
Rotary Clubs of District 6600
$12,270.00
Avon/Avon Lake, Bowling Green, Bucyrus, Findlay Flag City, Lima, Maumee, Milan, Ottawa/Glandorf, Toledo and Waterville
MESA
3,500.00
District Simplified Grants
5000.00
Personal Donations
5280.00
Mary Aufdenkamp, Heinrich Family Foundation, Keith & Mimi Everingham, Elana Honig, Lee Murray, Audrey Nagelberg
Non-Governmental Organizations (NGOs)
250.00
Association of Two Toledos, Northwest Ohio, Nurses Association (NONA)
Business
130.00
Home Depot
Total Monetary Donations*
$26,430.00
*About half of the donated funds were used to pay for expenses related to Missions 4 and 5, and one of the two DSG grants goes back to Mission 3. Grant money often comes in the after the mission is completed.
Equipment and Supplies
District 6600 Rotary Clubs
Bellevue (Mark Bishop)
Computers, chairs, video projector
Bowling Green (Dinah Vincent)
Computers, books, video tapes
Elyria Sunrise (George Costaras)
Books, video tapes
Lima (Mike Frueh)
RCI Brochure
Oberlin (Judy Riggle)
Books and crafts
Ottawa/Glandorf (Jane Heringhaus)
Books
Toledo (John Fedderke)
Books (Blade & Books for Buddies)
Vermillion (Sue Hunt)
Books
District Interact Clubs
Northcoast (Gina Eschke)
Books, games, toys, VHS tapes
Southview (Dave Mc Murray/Pam Wetmore)
Books, games, toys, VHS tapes
Schools
Bowling Green State University
Computers (Dinah Vincent)
Owens Community College
Computers (Andrew Timothy)
University of Toledo (Dave Best)
Tables, chairs, TVs, shelving
Businesses
Huntington National Bank
School supplies (Alicia Yoxthimer)
Menard's
Wood for shelving & toy blocks
Sam's Club
Exercise flooring (at cost)
Stevens Worldwide (Dave Best)
Computers
Cleveland Construction (Dave Honig)
Laser Jet Printer
NGOs
Sylvania Family Services
Tables (Claire Proctor)
Lucas County Public Library
Games, books, tapes (Sue Schafer)
Sylvania Area Recreation District
Sporting Equipment (Ken Katafias)
Friends of the Library
Books & VHS tapes (Margie Levy)
St Michael's in the Hills
Toys and games (Dariel Jacobs)
St David's Episcopal Church (PA)
Toys & games, (Elana Honig)
You can share this story by using your social accounts: