News For January – February 2015
MESA Moves into "New" Warehouse
After 4 moves in 10 years MESA is a tenant no more. Having just finalized the purchase of their facility in Fostoria, Ohio; MESA and its project Resource Centers International (RCI) moved into their new Operations Center over the Christmas Holiday season. The move for RCI was from two different locations. Over the course of two Saturdays all the product stored at the Stevens Worldwide warehouse in Toledo, Ohio was moved by David Best, Sylvania Rotarian and General Manager of Stevens, to Fostoria. This was followed by the move of everything stored in Findlay. Thank you to Gary Davis for handling this part of the move me while I was in New York taking care of my daughter who was expecting twin boys the second week of January.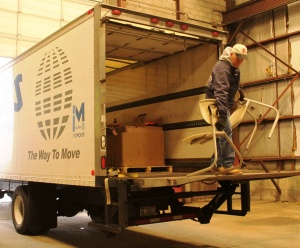 David Best shown above unloading furniture during first load when over 100 chairs, 5 pallets of books (approximately 140 boxes weighing over 7000 pounds) and games and toys. During the second load two pallets of computer towers and two pallets of computer accessories, along with more tables and chairs were unloaded at the new warehouse.
North Coast Interact Club Conducts Another Drive for Resource Centers International
For the fourth year in a row the North Coast Interact Club at Brookside High School conducted a drive to help supply games, toys, books and VHS tapes to resource centers placed in pre and primary schools in Jamaica and Belize. Gina Eshke, pictured below started her international experience as a teenager working in the poor rural communities of El Salvador. Having seen poverty she understands the importance of providing children, who have little or nothing, with some of the basic tools needed to help further their educational opportunities.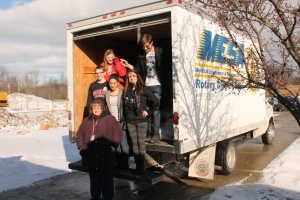 Gina Eschke, Guidance Counselor at Brookside High School, Avon/Avon Lake Rotarian and North Coast Interact Advisor with some of her Interactors who helped collect the games and toys for Jamaica and Belize. The Interact student leadership team at North Coast includes: Pierce Morgan, Megan Below, Megan Rozga and Bethany Klein.
Container Loading to Jamaica
On Thursday February 18th RCI loaded its first container from the Fostoria Warehouse. The container will go from Fostoria to the Port of New York where it will leave directly for Jamaica, via cargo ship, to the Port of Montego Bay, Jamaica.
Jamaica Mission 2 is sponsored by the Rotary Club of Sylvania . The mission team will be in Jamaica from March 15 to the 25th when we will open twenty (20) or more resource centers in basic and preschools. The team will help distribute and set up the donated educational equipment. Mission team members are: Mel Honig (Rotary Club of Sylvania), Kent Iler (Rotary Club of Elyria), Amber Fisher (Rotary Club of Elyria), Jillian Riddle (Rotary Club of Elyria) and Tori Fisher.
On March 5th RCI will be loading another container, but this one is going to Belize. The Belize Mission 8, sponsored by the Rotary Club of Bowling Green , is from April 19 to the 29th when we will be opening resource centers in fifteen (15) or more pre and primary schools. Mission members are: Mel Honig (Rotary Club of Sylvania), Kent Iler (Rotary Club of Elyria), Stacy Iler and Scott Iler.
Donations:
Educational Equipment and Materials
Item
Donor
Expeditor
Rotary Club of
Computers
Weber Stanley
Maumee
Books
Lorain Public Library
Jim Wilson
Lorain
Toys/Games/Books & VHS Tapes
Northcoast Interact Club
Gina Eschke
Avon/Avon Lake
Computers
Iler Networking & Computing
Kent Iler
Elyria
Computers & Books
Stephanie White
Stephanie White
Sylvania
Books
Friends of the Library
Margi Levy/Mel Honig
Sylvania
Monetary
| Donor Rotary Clubs of | Amount |
| --- | --- |
| Sylvania | $2000 (Jamaica Mission) |
| Bowling Green | $1000 (Belize Mission) |
| Perrysburg | $1000 (RCI Account) |
| Lima | $750 (RCI Account) |
| Avon/Avon Lake | $80 (MESA Truck expense) |
| Huron | $2500 (Belize Mission) |
| Sandusky | $2500 (Belize Mission) |
| MESA | $2000 (Container Shipment) |
| MESA | $1000 (Jamaica Mission) |
| MESA | $1000 (Belize Mission) |
| District 6600 Grant | $2295 (Jamaica Mission) |
Purchases
| Item | Source | Cost |
| --- | --- | --- |
| Exercise Mats (30 bundles) | Sam's Club | $521.70 (sold at cost) |
| Tools and Electrical Equipment | Home Depot | $124.01 Less $100 Home Depot donation |
| Headsets (45 ea.) | Amazon | $347.82 |
| Books & VHS tapes | Friends of the Library | $130.00 |
You can share this story by using your social accounts: