In Brief
Resource Centers International ended its first full fiscal year meeting all objectives.  Eight new centers were successfully opened.  Through the generosity of MESA and District 6600 Rotary Clubs we were able to meet our financial obligations, and ended the year with enough funds to commit to opening a minimum of 8 new centers in fiscal year 2011-2012.
Summary of 2010 – 2011 Activities
Many individuals, businesses, and organizations participated by giving their time, money, and/or equipment and supplies to help us meet last year's goals.  Below is an acknowledgment of that effort.  It must be remembered that the real work is being done by the Center Boards who are operating and maintaining the Resource Centers.  They not only operate the centers but also conduct fund raisers, make repairs and plan for the continued operation of the centers for the benefit of the community members served.   We must also acknowledge the continued help provided by the Belmopan and Punta Gorda Rotaries, the United States Peace Corps and the University of Belize.Two Missions, Eight Resource Centers opened:
December 2010 Mission: RCI opened centers in the communities of Billy White, Bullet Tree Falls, Duck Run 1 and Duck Run 3.
March 2011 Mission: RCI opened centers in the communities of San Felipe, San Miguel, Santa Anna, and Silver Creek.
Rotary Participation
Financial support in excess of $10,800.00 was received from the following Rotary Clubs, MESA and District Simplified Grant:
Findlay Noon
Galion
Hicksville
Lima
Oberlin
Toledo
Rotarians from the following Clubs (at their own expense) went on Missions:
Belmopan                 David Gonzalez
Findlay Noon               Bob Rustic
Findlay Univ. Rotaract     Kara Elling and Emily McManns
Lima                    Jeff Gast
Oberlin                 Judy Riggle
Sylvania                 Mel Honig and Sue Schafer
Equipment and Supplies were donated from the following Rotary Clubs and MESA:
Findlay Noon
Galion
Lima
Perrysburg
Commercial and Individual ParticipationFinancial support of $5700.00 was received from the following individuals, businesses and Trusts:
Jeff Gast
Heinrich Family Trust
Home Depot
Mel Honig
Hunter Living Trust
Audrey Nagelberg
Ashka Pandya
Keith and Melinda Sawyer
Ron Stoner
Donations of Equipment and Supplies were made by the following individuals and Businesses:
Dental Group West
Father Bob Haas
Jeff Gast
Elana Honig
Gail Odneal
Owens Community College Computer Club
Judy Riggle
Sam's Club
Sylvania Area Joint Recreation District
Toledo Board of Jewish Education
The following non-Rotarians went on one, or both missions at their own expense:
Elana Honig
Sue Honig
Justin Kendall
Jasmine Martinez
Dan McCormick
Jeanne Rustic
Where the money went (rounded to 100s):
Transportation (getting the product to Belize)        8400.00
In country transportation (car rentals, gas)        1200.00
Purchased Equipment and Supplies                2600.00
Cash on hand for fiscal year 2011-2012            5000.00
Objectives: 2011-2012
Conduct 2 Missions, The first one December, 10 – 18 and the second March 3 – 11.
Raise at least $7000.00 to cover this year's budget.
Raise an additional $10,000 to insure continued operations in fiscal year 2012 – 2013.
Extend the involvement in RCI to a minimum of four new clubs in District 6600 and two new ones in Belize.
Establish a Resource Center International Board to conduct future operations.
On Being a Volunteer Teacher
By Dan McCormick
Two years ago, Mel Honig asked me to join him on a mission to Belize to help with computer training. Little did I know what this experience would mean to me. I went to Belize in March of 2010 and came back with a new perspective. After seeing how much the people of Belize did with so little, it made me realize how much we as Americans take for granted. When Mel asked me to come back to Belize in 2011, I immediately jumped at the chance to go back again.
It has been a rewarding and enriching experience for me because I felt like I was actually making a difference. Back at home I'm nothing more than a factory worker that makes a living building car seats. But in Belize I was a teacher to both adults and high school students. I was able to teach adults how to use a computer. This was a big opportunity for them since most of them never used one before. I was also able to teach some high school students how to be teachers in their own communities and take over the computer training once I left. This was met with both eagerness and excitement.
These communities didn't hesitate to show their gratitude for all the work that our group was doing for them. I will never forget my first time in Belize when the whole village got together on my last day of training. The women and high school students brought food and threw me a thank you party for my efforts. Then they each said their individual thank you to me and I was really touched by it. I felt the same gratification my second time around because the high school students looked up to me and valued my input. I was even able to keep in contact with one of the high school students online. He ensured me that the resource centers are being put to good use.
I'm thankful to Mel for giving me this opportunity. I look forward to the possibility of doing it again next year for a third time. Opportunities like these don't always come around so I would encourage anyone to take advantage of them when they come your way. I will never forget my experiences in Belize and the wonderful people in the communities.
This is Dan saying….adios.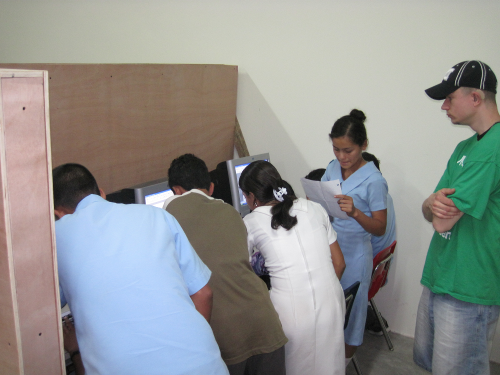 Dan working with high school students in St Margaret village.
Editor's note:  Dan is a father of 3 who works at night and goes to Owens Community College during the day studying Computer Science.
Update from Billy White
Hi Mel,
How are you?  I hope you are fine and well.  Here in Billy White every thing is fine.  The computer center is working fine.  The pre-school in August will have a graduation of 15 small kids.  They have learned a lot and they will be ready to go to school in September… oh we just hope you would be here with us for that date.  Thank you for helping us so much.
-Jasmin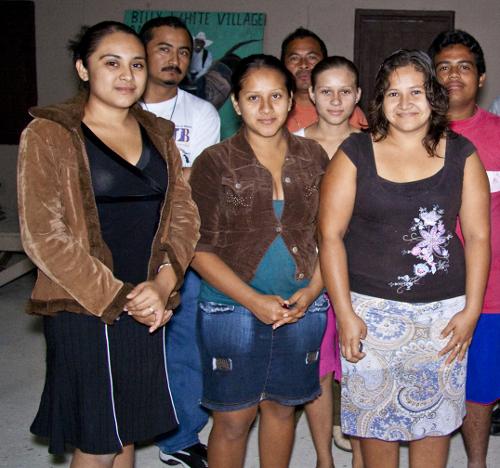 At the first town meeting in March 2010, the village of Billy White selected a Board and elected Jasmin President.  Jasmin is first person on left.Editor's note:  Of the 11 Presidents of the Resource Center Boards, at 19 years old Jasmin Gomes is the youngest.  She is a recent High School graduate, just married and works fulltime.
-Mel HonigNewsletter Editor